Infrastructure bill makes investments in local climate, water infrastructure
November 15, 2021 - Rebecca Hobart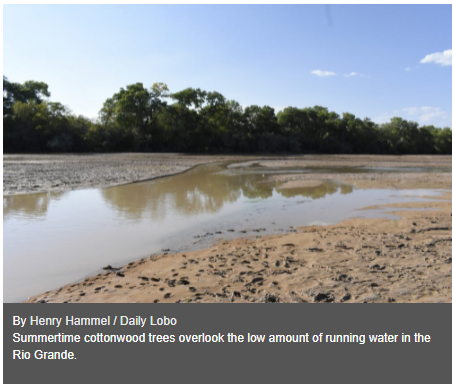 President Joe Biden's $1.2 trillion infrastructure bill was approved by the U.S. Congress in early November. The bipartisan bill, H.R. 3684, is climate-focused and uses a dynamic approach to dispersing funding, with money going to highways, wildfires, electric buses, water and other related projects. New Mexico's apportionment of the bill is $3.7 billion, which seeks to invest in and address vulnerabilities of the state's water, highway and bridge infrastructure, among other key ventures.
University of New Mexico professor Claude Morelli, scholar of transportation planning and policy at UNM, said the largest cut of New Mexico's share, $2.5 billion, is going toward highway development. $255 million in the infrastructure package will also address bridge needs across the state as super storms have undermined bridge foundations, causing the collapse of bridges and necessitating more maintenance, according to Morelli.
Ben Warner, UNM assistant professor of geography and environmental studies, said the apportionment of funding in the bill is relatively climate-centric compared to past infrastructure bills, including a priority for addressing wildfires and expanding electric vehicle infrastructure. 
---
Morelli said intense floods are happening more often due to climate change and threats to road infrastructure are compounded by forest fires, like the 2011 Las Conchas Fire in the Jemez, which strip areas of their vegetation and capacity to withstand flooding.
He said rainfall in New Mexico is infrequent but intense and abundant when it does fall.
"The nature of our soils and the lack of vegetation means that there's no way that the ground can absorb the rain," Morelli said.
On the federal level, Morelli said a lot of money has been spent on highways, which is partly due to the lack of publicly funded rail network or bikeway infrastructure resources, though this bill is novel in its commitment to funding electric vehicle charging stations and improving public transportation.
Warner said the question of who will maintain infrastructure developed during the next five years of this bill remains unknown. Of New Mexico's apportionment, $355 million of the bill will go toward funding water infrastructure projects.
Warner said he's worried about the allocation of project money if small communities, who rely on volunteer staff to manage water, are not set up with adequate resources to manage and maintain the infrastructure.
"We didn't do anything about climate change 30 to 40 years ago when we really could've prevented things and now we're just having to kind of spend a lot more money to harden our infrastructure," Morelli said.
Morelli said if a bridge or highway, especially those in rural areas, was to get washed out, the roads would be out of service for some time and would really affect the people living in those areas. Catron County, a rural area in New Mexico, experienced the obsolescence of their roadway infrastructure firsthand due to severe flooding in 2013.
"Water has been really decentralized so that the responsibility has been pushed almost entirely to communities in the water sector," Warner said. "The state bears no responsibility, for the most part, with respect to water infrastructure."
Warner said he expects, based on past decisions, that the funding will largely go toward "shovel-ready projects," which are projects in which the planning and engineering has been completed. He said these types of projects often neglect poorer communities that don't have the cash to complete that preliminary contract work.
"The state government does not really play a role in the building and managing of water infrastructure," Warner said. "It's left to small towns' communities that don't have much administrative capacity to actually manage the building and maintenance of these systems and that's pretty problematic."
Warner pointed to a grant-funded municipal water treatment plant initiative in Chama, New Mexico, which didn't have adequate operators or the long-term resources to manage the plant and "broke down, failed and (the village) no longer had access to drinking water."
Rebecca Hobart is a senior reporter at the Daily Lobo. She can be contacted at news@dailylobo.com or on Twitter @rjhobart
View the original article on the daily lobo website.