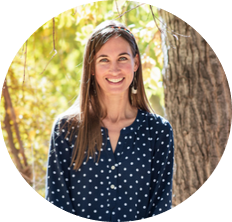 Jessica Rowland

Lecturer II
---
Recipient of the College of Arts and Science Teaching Excellence Award, Jessica Rowland is the senior Faculty member of Sustainability Studies, having been a part of the program since 2009. You can learn more about Jessica's worldly experiences and details on how she made her way to UNM on her extended faculty highlight here!
---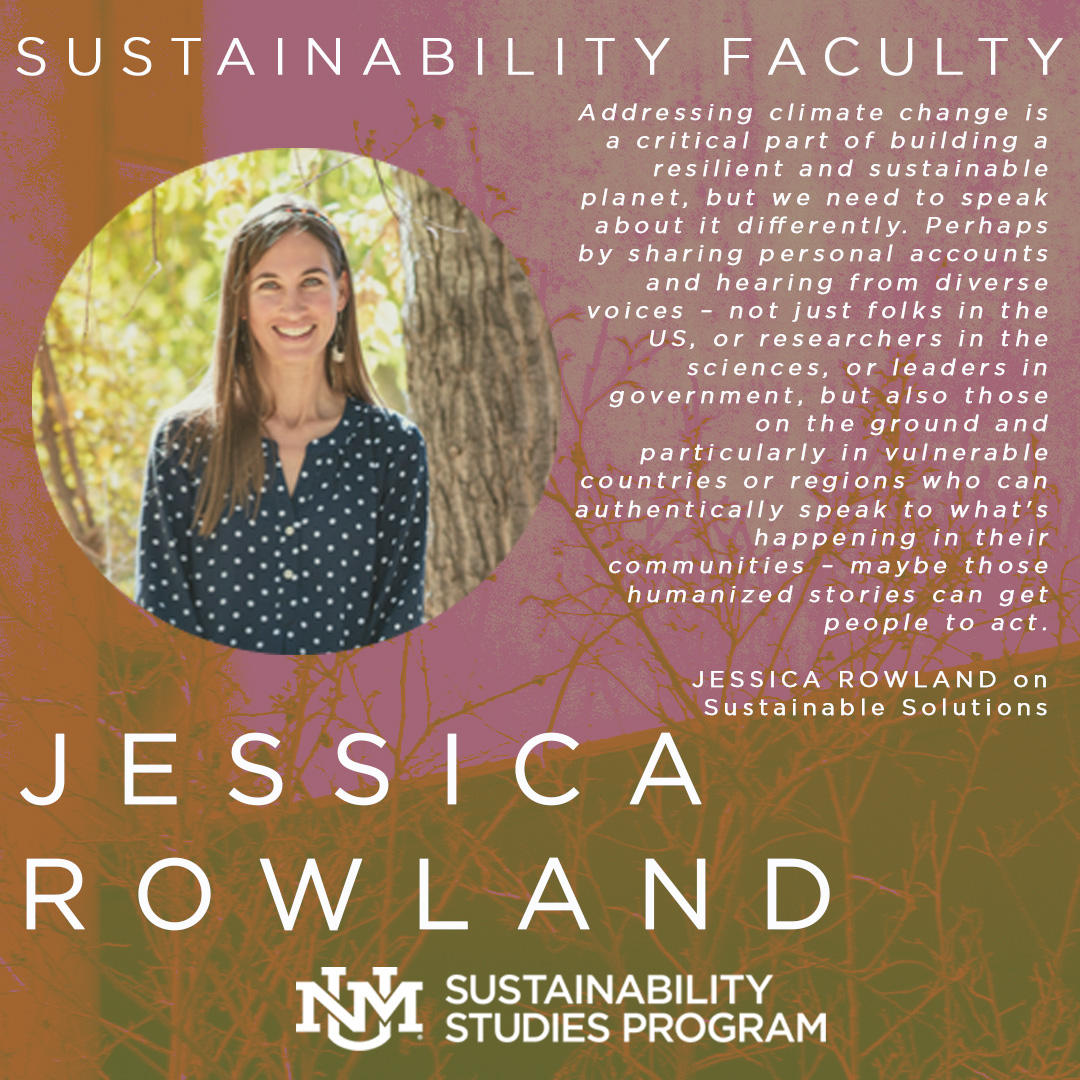 Jessica grew up in rainy western Washington, with a life split between living on a farm and commuting to the city for school. On the farm, she helped her family grow crops and raise animals, which gave her an understanding of the hard work that it takes to bring food to our tables. With a desire to move to a more sunny and warm location, she attended Trinity University in San Antonio, Texas where she studied geosciences and anthropology. During this time, Jessica spent her summers doing research for her degree. One summer was spent in Belize performing archaeological fieldwork, attempting to become a more feminist version of Indiana Jones. After being stalked by jaguars and growing a botfly larva under her skin, she was less keen on pursuing the life of a jungle researcher. Another summer she spent doing climate-related research in Alaska, studying the timing of glacial advance and recession in the Juneau Icefield.
The field experience in Alaska prompted her to think more deeply about humanity's role in climate change and led her to pursue a graduate degree in paleoclimatology at the University of Arizona, where she worked with an interdisciplinary group of scientists. . After earning her master's degree, Jessica decided to focus her efforts on communication, action, and education. She took an internship in Washington DC, working for an Earth science non-profit organization. Here – during a time when climate scientists were being subpoenaed to appear before Congress – she reported on hearings and briefings related to energy, climate, and the Earth sciences on Capitol Hill. Feeling that she could make a positive impact on the health of the environment and the wellbeing of surrounding communities at the local level, Jessica then spent the next few years working on groundwater quality monitoring and remediation projects in Arizona and New Mexico.
Jessica has had some amazing experiences around the world. After undergrad, she lived in a small village in rural Japan teaching English to school children. Many years later, she spent 10 months traveling around southern and eastern Africa in a truck, observing wildlife and scaling volcanoes before returning to the U.S. to work at the University of New Mexico. This was in 2009 when she joined the Sustainability Studies Program (SSP). She has been a part of the SSP ever since., and currently teaches three classes which include Introduction to Sustainability Studies, Climate Change and Sustainability, and the Local Food Systems Practicum.
Jessica has felt connected to the high desert and the Albuquerque community ever since arriving in New Mexico. She loves supporting local businesses like Cutbow Coffee, The Burque Bakehouse, Chispas Farm, and many other small producers at the Downtown Growers' Market. In the Local Food Systems Practicum, she encourages her students to support their own neighborhood businesses and local CSAs, farms, and growers' markets.
Sustainable solutions to climate change must come from many different sectors (including agriculture) and be applied on various scales, in Jessica's eyes. Key aspects include creating policies that enable an equitable transition to a low carbon economy, supporting place-based community-level climate action, and investing in the education of younger generations.
"Addressing climate change is a critical part of building a resilient and sustainable planet, but we need to speak about it differently. Perhaps by sharing personal accounts and hearing from diverse voices – not just folks in the US, or researchers in the sciences, or leaders in government, but also those on the ground and particularly in vulnerable countries or regions who can authentically speak to what's happening in their communities – maybe those humanized stories can get people to act." - Jessica Rowland when asked about implementing sustainable solutions.
Feature by Jess Newman.