Sustainability Studies Reading Guide
Book choices by:
Bruce Milne - Program Director 
Falter by Bill McKibben
(2016)
Bill McKibben's groundbreaking book The End of Nature -- issued in dozens of languages and long regarded as a classic -- was the first book to alert us to global warming. But the danger is broader than that: even as climate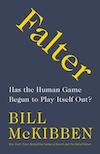 change shrinks the space where our civilization can exist, new technologies like artificial intelligence and robotics threaten to bleach away the variety of human experience.
Falter tells the story of these converging trends and of the ideological fervor that keeps us from bringing them under control. And then, drawing on McKibben's experience in building 350.org, the first truly global citizens movement to combat climate change, it offers some possible ways out of the trap. We're at a bleak moment in human history -- and we'll either confront that bleakness or watch the civilization our forebears built slip away.
-GoodReads
The Overstory by Richard Powers
(2019)
The Overstory is a sweeping, impassioned work of activism and resistance that is also a stunning evocation of—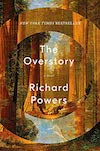 and paean to—the natural world. From the roots to the crown and back to the seeds, Richard Powers's twelfth novel unfolds in concentric rings of interlocking fables that range from antebellum New York to the late twentieth-century Timber Wars of the Pacific Northwest and beyond. There is a world alongside ours—vast, slow, interconnected, resourceful, magnificently inventive, and almost invisible to us. This is the story of a handful of people who learn how to see that world and who are drawn up into its unfolding catastrophe.
-GoodReads
Underland  by Robert MacFarlane
(2019)
Global in its geography and written with great lyricism and power, Underland speaks powerfully to our present moment.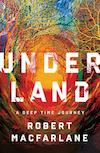 Taking a deep-time view of our planet, Macfarlane here asks a vital and unsettling question: "Are we being good ancestors to the future Earth?"
Underland
marks a new turn in Macfarlane's long-term mapping of the relations of landscape and the human heart. From its remarkable opening pages to its deeply moving conclusion, it is a journey into wonder, loss, fear, and hope. At once ancient and urgent, this is a book that will change the way you see the world.
-GoodReads
The Invention of Nature by Andrea Wulf
(2015)
Now Andrea Wulf brings the man and his achievements back into focus: his daring expeditions and investigation of wild environments around the world and his discoveries of similarities between climate and vegetation zones on

different continents. She also discusses his prediction of human-induced climate change, his remarkable ability to fashion poetic narrative out of scientific observation, and his relationships with iconic figures such as Simón Bolívar and Thomas Jefferson. Wulf examines how Humboldt's writings inspired other naturalists and poets such as Darwin, Wordsworth, and Goethe, and she makes the compelling case that it was Humboldt's influence that led John Muir to his ideas of natural preservation and that shaped Thoreau's Walden.
With this brilliantly researched and compellingly written book, Andrea Wulf shows the myriad fundamental ways in which Humboldt created our understanding of the natural world, and she champions a renewed interest in this vital and lost player in environmental history and science.
-GoodReads
Can Poetry Save the Earth by Jonh Felstiner 
(2009)
Poems vivifying nature have gripped people for centuries. From Biblical times to the present day, poetry has continuously drawn us to the natural world. In this thought-provoking book, John Felstiner explores the rich legacy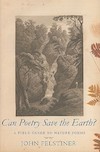 of poems that take nature as their subject, and he demonstrates their force and beauty. In our own time of environmental crises, he contends, poetry has a unique capacity to restore our attention to our environment in its imperiled state. And, as we take heed, we may well become better stewards of the earth.
In forty brief and lucid chapters, Felstiner presents those voices that have most strongly spoken to and for the natural world. Poets—from the Romantics through Whitman and Dickinson to Elizabeth Bishop and Gary Snyder—have helped us envision such details as ocean winds eroding and rebuilding dunes in the same breath, wild deer freezing in our presence, and a person carving initials on a still-living stranded whale.

-GoodReads
Jessica Rowland - Lecturer II
Silent Spring by Rachel Carson
(1962)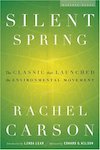 Rachel Carson's Silent Spring was first published in three serialized excerpts in the New Yorker in June of 1962. The book appeared in September of that year and the outcry that followed its publication forced the banning of DDT and spurred revolutionary changes in the laws affecting our air, land, and water. Carson's passionate concern for the future of our planet reverberated powerfully throughout the world, and her eloquent book was instrumental in launching the environmental movement. It is without question one of the landmark books of the twentieth century.
-GoodReads
A Sand County Almanac and Sketches Here and There
(1949)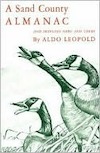 First published in 1949, A Sand County Almanac combines some of the finest nature writing since Thoreau with an outspoken and highly ethical regard for America's relationship to the land.

Written with an unparalleled understanding of the ways of nature, the book includes a section on the monthly changes of the Wisconsin countryside; another part that gathers informal pieces written by Leopold over a forty-year period as he traveled through the woodlands of Wisconsin, Iowa, Arizona, Sonora, Oregon, Manitoba, and elsewhere; and a final section in which Leopold addresses the philosophical issues involved in wildlife conservation. As the forerunner of such important books as Annie Dillard's Pilgrim at Tinker Creek, Edward Abbey's Desert Solitaire, and Robert Finch's The Primal Place, this classic work remains as relevant today as it was sixty-five years ago.
-GoodReads
Flight Behavior by Barbara Kingsolver
(2012)

Flight Behavior takes on one of the most contentious subjects of our time: climate change. With a deft and versatile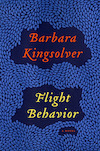 empathy Kingsolver dissects the motives that drive denial and belief in a precarious world.

Flight Behavior transfixes from its opening scene, when a young woman's narrow experience of life is thrown wide with the force of a raging fire. In the lyrical language of her native Appalachia, Barbara Kingsolver bares the rich, tarnished humanity of her novel's inhabitants and unearths the modern complexities of rural existence. Characters and reader alike are quickly carried beyond familiar territory here, into the unsettled ground of science, faith, and everyday truces between reason and conviction.
-GoodReads
American War by Omar El Akkad
(2017)
An audacious and powerful debut novel: a second American Civil War, a devastating plague, and one family caught
deep in the middle a story that asks what might happen if America were to turn its most devastating policies and deadly weapons upon itself

Sarat Chestnut, born in Louisiana, is only six when the Second American Civil War breaks out in 2074. But even she knows that oil is outlawed, that Louisiana is half underwater, and that unmanned drones fill the sky. When her father is killed and her family is forced into Camp Patience for displaced persons, she begins to grow up shaped by her particular time and place. But not everyone at Camp Patience is who they claim to be. Eventually Sarat is befriended by a mysterious functionary, under whose influence she is turned into a deadly instrument of war. The decisions that she makes will have tremendous consequences not just for Sarat but for her family and her country, rippling through generations of strangers and kin alike.
-GoodReads