Scholarship Opportunities
---
Hulsman Undergraduate Library Research Award
The Jim and Mary Lois Hulsman Undergraduate Library Research Award program recognizes excellence in undergraduate research that incorporates the use of University Libraries resources and demonstrates sophisticated information literacy skills. Student award winners receive a cash prize  – $500 for 1st place, $300 for 2nd place, $200 for 3rd place – and recognition for their outstanding efforts. Application Deadline: February 7, 2022
Upcoming Application Workshops:
Wed. January 26, 12-1pm - Register hereThurs. February 3, 3-4pm - Register here
 Applicants must:
Be enrolled as an undergraduate at the UNM Albuquerque main campus at the time of project completion

Have completed the research project or paper as part of UNM credit course or independent study undertaken in the past calendar year – spring, summer, or fall semester.
Original research projects completed by individuals or groups in all formats are welcome and may include:
Research papers

Design portfolios

Compositions

Posters

Film

Digital projects
ugresearchaward@unm.edu or you can visit the award website for more information: https://library.unm.edu/awards/index.php
Questions about eligibility may be sent to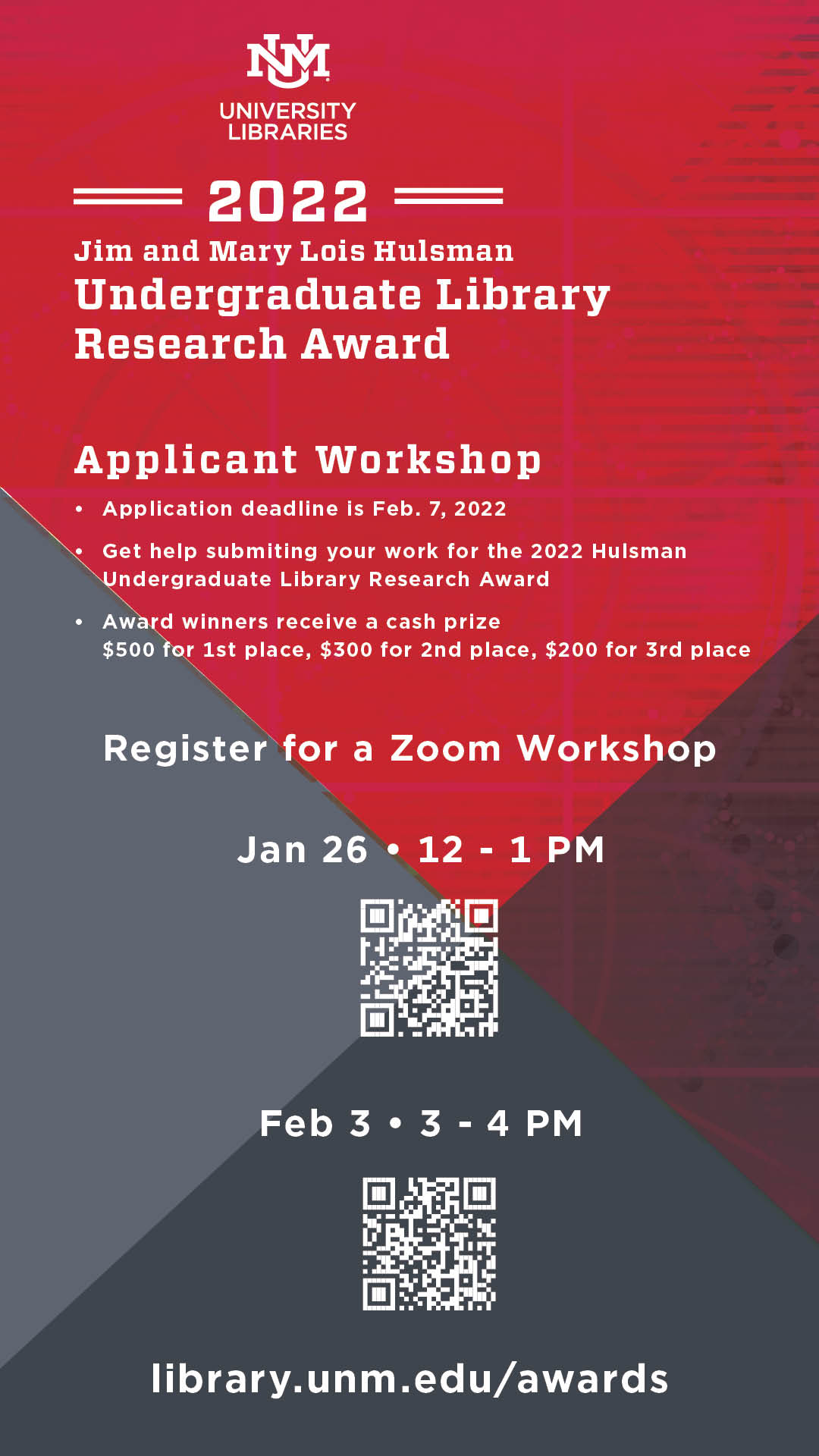 ---
Global Sustainability Scholars & Fellowships
Global Sustainability Scholars
Summer research experiences and international professional networks in sustainability sciences.
The Global Sustainability Scholars program brings together talented undergraduates for a paid summer immersive experience, where students travel abroad, conduct research, and build their professional network in real-world sustainability issues.  
Each year we select undergraduates to join a GSS cohort and the larger international sustainability solutions community. Scholars get paid over two summers while focusing their training and research on a theme within Sustainability. The 2019 cohort focused on the Food, Energy & Water Nexus. The 2022 cohort will focus on Ocean Sustainability. See Global Sustainability Scholars Page for details. 
Fellows Program 
10 Week Paid Professional Training Experience with a Global Sustainability Organization
The GSS Fellows program offers a 10-week paid immersive training and mentoring with a global sustainability organization. Fellows will gain professional work experience, receive professional mentorship and professional development training, and build an international professional network in sustainability science. We will accept 10 fellows per year to join the GSS community, provide advanced professional development training, and build professional connections that foster opportunities for employment and/or graduate school opportunities.
Fellows will work with sustainability organizations such as Belmont Forum research projects or Future Earth projects focused on OCEAN sustainability. Fellows are paid a stipend of $8,000 for their full participation in the program. Each fellowship may provide different opportunities and experiences, however, all Fellows will have a core curriculum and a GSS mentor. GSS Fellowships may meet graduate school requirements as professional internships, so be sure to make proper arrangements with the GSS program director prior to acceptance. See GSS Fellowship Page for more information.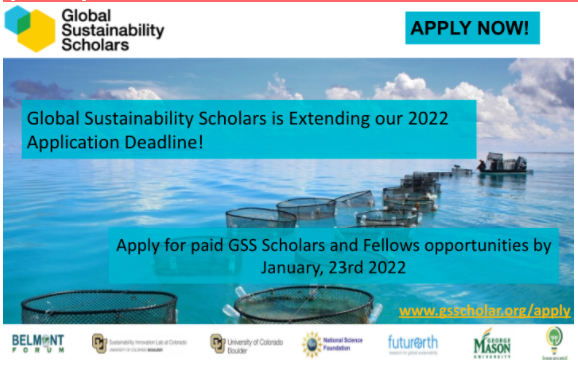 ---
Yale Conservation Scholars
We are happy to announce that we are accepting applications for the Yale Conservation Scholars - Early Leadership Initiative! 
The priority application date is Monday, January 10th. All applications will be reviewed on a rolling basis after this date until January 31st at 11:59 pm EST. 
 We are holding an informational webinar on January 13th at 2:00 pm EST/ 11:00 am PST. You can RSVP here.
Led by Dr. Dorceta Taylor, Program Director and Principal Investigator, the Yale Conservation Scholars – Early Leadership Initiative (YCS- ELI) was formerly known as the Doris Duke Conservation Scholars Program at University of Michigan/Yale School of the Environment. YCS-ELI is a summer opportunity for undergraduates traditionally underrepresented in the conservation field and who are interested in careers in the sector. 
Any questions can be directed to YCS-ELI@yale.edu. \
---
RISE Fellowship
The University of New Mexico is a collaborating institution for RISE, which makes your students eligible for this opportunity. RISE focuses on social justice issues stemming from issues around educational equity. RISE has two primary objectives: 1. to train students on research methods from a social justice perspective and 2. to prepare students to successfully access and complete graduate programs in education and the social sciences. Therefore, RISE is an interdisciplinary project that focuses on developing quantitative and qualitative research skills, graduate school preparation (GRE and graduate school application prep), and professional skill development, such as preparing and presenting research findings. We have already seen success through Fellows who have earned graduate degrees and those who are pursuing Ph.D. degrees. 
RISE is recruiting 15 Fellows for cohort five. Their involvement as a RISE Fellow will begin with the Summer Research Institute to be convened at North Carolina Central University (NCCU). The Fellows (again, rising juniors, rising seniors, and graduating seniors from all majors) will participate in an 8-week summer institute along with Fellows and mentors from around the country and, after the summer, they will continue their research over the following academic year when they return to their respective campuses, thus making the project a yearlong project. This is a funded fellowship in which fellows will receive travel, housing, a meal plan, a stipend ($3,000 in summer and $3,000 in the academic year), research funds, all necessary curricular materials (e.g., textbooks) and GRE preparation and testing. In total, this represents a $13,000 investment in each Fellow. 
See RISE Website for details & Instructions on how to apply.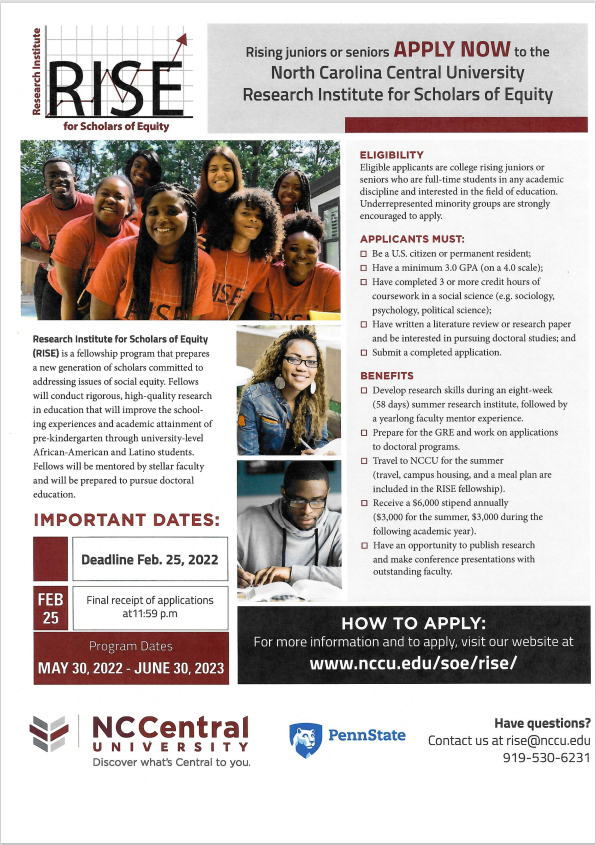 ---

Undergraduate Library Research Award accepting submissions
Aspiring undergraduate researchers at The University of New Mexico have the opportunity to receive funding for their work through award. 
The Jim and Mary Lois Friday Hulsman Undergraduate Library Research Award program recognizes excellence in undergraduate research that incorporates the use of University Libraries resources and demonstrates sophisticated information literacy skills.
Judges look for original research projects completed by individuals or groups and may include research papers, design portfolios, compositions, posters, film and digital projects. The research project or paper must also be part of a UNM credit course or independent study undertaken in the past calendar year—spring, summer or fall semester.
Submissions are due Feb. 7, 2022. Applicants must be enrolled as an undergraduate at the UNM main campus at the time of project completion in order to qualify. Student award winners receive a cash prize– $500 for first place, $300 for second place, $200 for third place—and recognition for their outstanding efforts. Submissions are also published in the UNM Digital Repository. 
There are two categories for submissions: Emerging Undergraduate Researchers (for work completed in 100/1000-level and 200/2000-level courses) and Advanced Undergraduate Researchers (for work completed in 300-level and above courses).
Applicants are required to complete the online application form located in the UNM Digital Repository. Applicants are also required to submit a copy of their research project or paper, a 500-750-word research statement describing their research strategies and use of library resources, a bibliography and a statement of support from UNM faculty/instructor. Application guidelines and rubrics are available here. 
UNM Libraries will be hosting an online workshop to help students with the application process on Nov.17. Students can register here and a zoom link will be sent to all attendees prior to the workshop. Tentative workshops are planned for the spring semester. Winners will be announced after Spring Break and will be honored in early April. 
For more information or questions about eligibility, contact ugresearchaward@unm.edu.
See Hulsman Award Page for previous submissions. 
---
SUWA Scholarship
The Southern Utah Wilderness Alliance is a $3,000 scholarship fund looking for the climate change leaders of tomorrow. They will be awarding scholarships to three talented, BIPOC students in the states of Nevada, Utah, Colorado, New Mexico, or Arizona. You can apply through Scholarful.com, and if you are shortlisted, you will be asked to write an additional essay regarding your opinions on conservation. Students can also use their profile to 1-Click Apply for more scholarships matching their criteria! The deadline for application is next Friday (11/19). 
How can I apply? 
Head to Scholarful.com to create a profile 

Click your profile picture in the top right hand corner, and click "Redeem Gift Subscription" - We have gone ahead and generated a unique code for your members: CLIMATE

Search for "Southern Utah Wilderness Alliance" and 1-Click Apply for the award! You will be notified if you are a finalist within a couple weeks 
Click here to apply.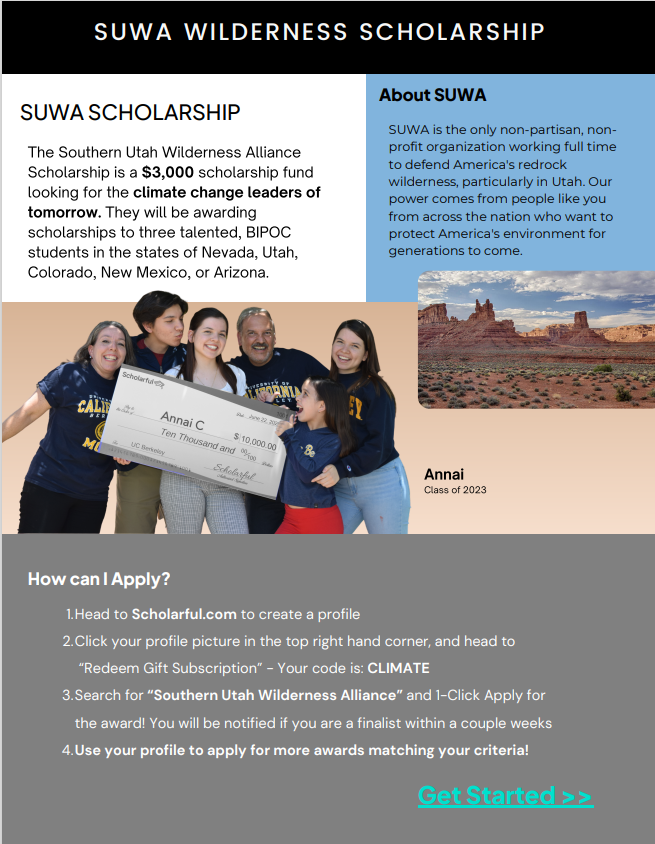 ---
Grand Challenges Undergraduate Research Scholarships
Sustainable Water Resources
See instructions on how to apply for details.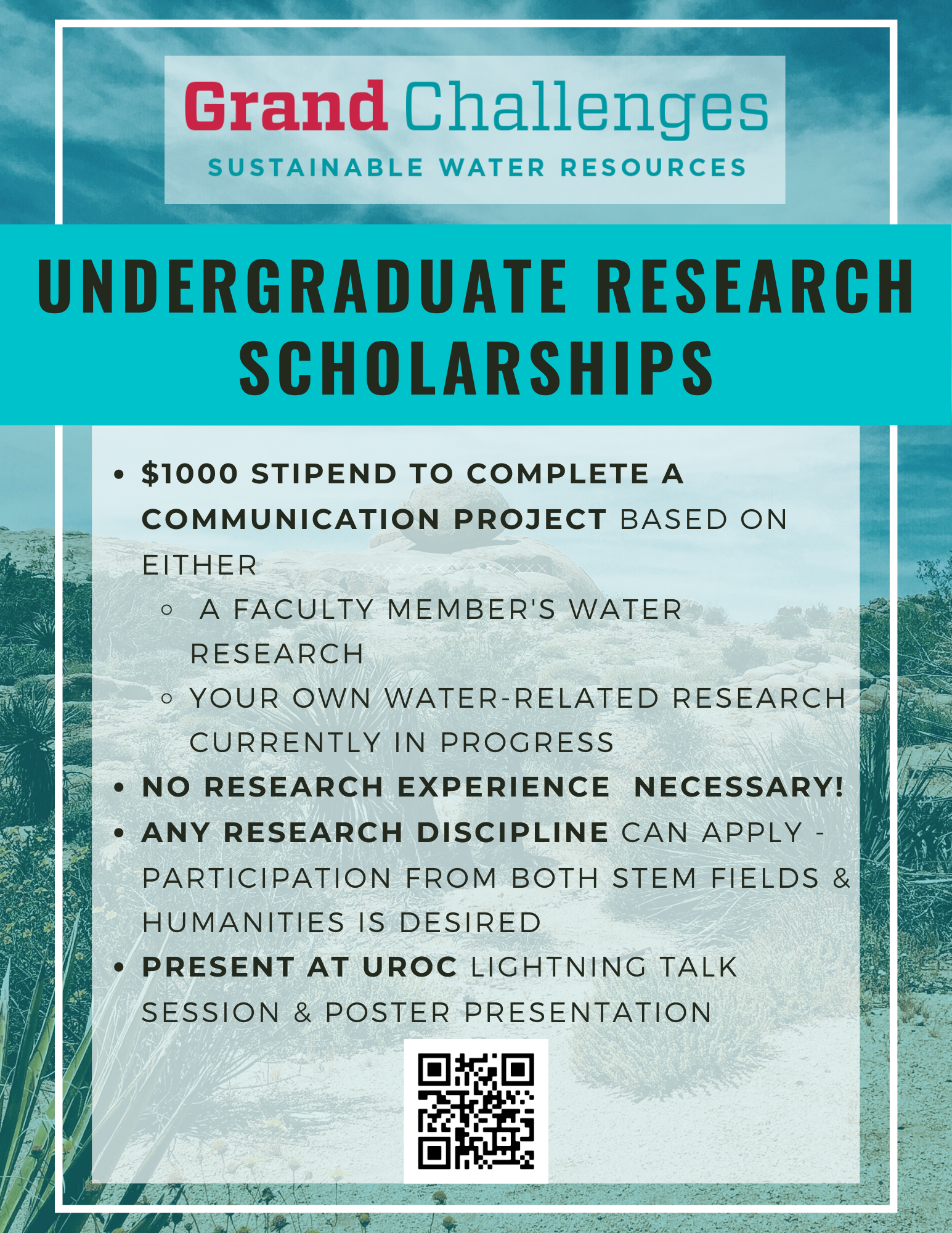 ---
La Montañita Co-op Marshall Kovitz Memorial Scholarship
Scholarship for $1000 available for Sustainability Studies Minors. See flyer for details. 
Click Here for scholarship application. Submit Application to Academic Coordinator Faron Stout at fstout@unm.edu, no later that 5:00 p.m. on Friday October 15, 2021.