OPINION: Sparse tree canopy in International District indicates environmental racism
September 20, 2021 - Rebecca Hobart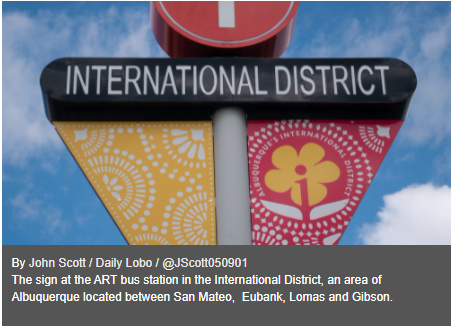 The International District, one of the least-affluent areas of Albuquerque, might as well be the poster child for environmental injustice. This ethnically diverse area is knee-deep in the cruxes of climate change, seen by way of the urban heat island effect, which comes to fruition through substantial infrastructure development such as concrete buildings and asphalt in cities.
The effect causes cities to absorb and trap heat in areas like the International District, which is an area between Lomas, Eubank, Gibson and San Mateo. This trapped heat results in hotter temperatures during the day and less cooling at night, which is particularly impactful on the most densely populated neighborhood in New Mexico. Rising temperatures in the International District are due to a wide array of anthropogenic influences, but certainly worth highlighting is the destruction of natural land coverage and lack of tree canopies.
Frankly, the data is alarming. As of 2011, the International District is roughly 3,174 acres in area and, of that, 1,583.9 acres (49.95%) is "plantable space," meaning trees could grow there if sown, according to USDA Forest Service software i-Tree. Though there's an abundance of potential for planting, only 18.4 acres (0.58%) of the International District has tree canopy.
Tree canopies provide a natural barrier to intercept the sunlight that would otherwise be absorbed by urban surface areas. This barrier creates the shade that keeps temperatures down and serves to lessen the impacts of warming.
The shade that trees provide has a significant impact on the surface temperatures of the area, with a 20-45°F reduction from peak, unshaded temperatures, according to the Environmental Protection Agency.
There is both a clear need for greater shading and an opportunity, given the "plantable space" of the district. The distinct opportunity here has been overlooked as conversations on how to weather the intensifying impacts of climate change seem to be reserved for the more affluent.
It's critical to note that the lack of tree canopy — and the subsequent urban heat island effect — is fairly exclusive to low-income areas like Albuquerque's International District and South Valley, which parallels the issue on a slightly less grievous scale. Disparities in temperatures and access to tree canopy are clearly correlated with income-based inequities. 
The median household income of the International District was $26,201 as compared to the median income of $49,878 for Albuquerque overall, according to a 2016 Bernalillo County Urban Agriculture Project report. 
Agricultural resources and tree canopy are a relevant part in cultural and socio-economic discussions and it's something that tends to signify community wealth, as an analysis on trees and poverty by the New York Times illustrated. Cities where low-income communities are suffering from lack of tree canopy are complicit in perpetuating environmental racism.
Oftentimes, it's the global economic stakeholders that are releasing obscene quantities of greenhouse gases through industrial and commercial activity, but underprivileged communities are the ones who are enduring the disproportionate impacts of emissions because their environments aren't conducive for adapting to extreme climate activity.
In addition to more extreme temperatures, the lack of equitable access to trees in impoverished areas also leads to increased need for electricity in the summer months. Trees and shading would reduce the need for air conditioning, which is sustained by fossil fuels.
Air conditioning should be treated as a human right and efforts to reduce surface temperatures through the development of green spaces — whether that be tree canopies, rooftop gardens, playgrounds, etc. — should be considered in supporting the public health of communities.
Climate change and its detrimental effects will happen to everyone, but not everyone will experience the gravity of those effects in the same way, with increased financial and social capital in some areas alleviating the worst of it. Racial and environmental justice are inextricably connected, as continually seen in the insufficient tree canopy in low-income, minority communities.
Rebecca Hobart is a freelance reporter at the Daily Lobo. She can be contacted at culture@dailylobo.com or on Twitter @DailyLobo
View original Daily Lobo article here.