Sustainability Studies lecturer attends nuclear summit in France
December 21, 2018 - Colton Newman
Eileen Shaughnessy, instructor of the popular UNM course Nuclear New Mexico, sits down to talk about her summer in France where she ended up representing the U.S. at an international summit focused on nuclear waste.
Q- What did you do this summer?
A- With the generous help of the Sustainability Studies Program, I was able to attend an international summit on nuclear waste near Narbonne, France this summer from August 6-12, 2018. This gathering was organized by the Nuclear Heritage Network in conjunction with the local chapter of Sortir du Nucléaire in order to cultivate discussion, workshops, presentations, and action on the topics of nuclear energy, nuclear weapons, and nuclear waste. The dates of the gathering intentionally coincided with the anniversaries of the dropping of the atomic bombs on Hiroshima and Nagasaki on August 6th and 9th, 1945 respectively with an honoring of those directly impacted by the Japanese delegation. In this way, we were very cognizant of the dangers of nuclearism and nuclear colonialism as we came together with over one hundred people from 18 different countries including Japan, India, Germany, Turkey, Ireland, and Russia.
Q- What role did you play at the gathering?
A- Diné organizer Leona Morgan and I had the singular experience of representing the United States at this international gathering. I presented on an international panel on the topic of nuclear waste in the U.S. and I also had the honor of performing my original music (with the help of Google-translate and a projector!) for the international, but mostly French-speaking, gathering one magical evening.
Q- Why was this gathering held in France?
A- The fact that this summit was held in southern France was extremely significant. France is heavily reliant on nuclear energy with about 71% of its energy coming from nuclear in 2017. Thus, many Europeans are concerned about the environmental and health impacts of the nuclear waste produced by the nuclear industry. Our gathering was located only about six kilometers from the Orano-Malvési facility, which processes 21,000 tons of uranium ore into uranium tetrafluoride every year. This facility is currently seeking to vaporize liquid radioactive waste into the atmosphere, which could contaminate the local environment with radionuclides and impact human and non-human health. Historically, southern France has been an agriculturally-rich area, with olive groves and wineries dotting the beautiful landscape bordering the Mediterranean sea, such as the vineyard adjacent to Malvési. I stayed with a family whose ancestral olive grove and business was threatened by the impacts of the nuclear industry. They were very concerned that if Orano began vaporizing nuclear waste they could lose everything they had.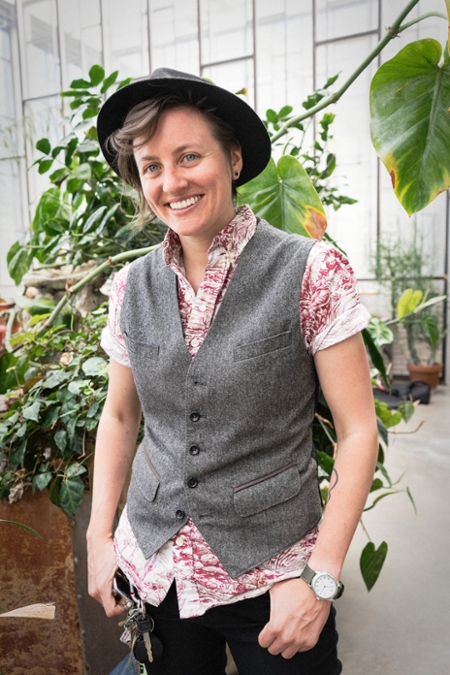 Q- What are your take-aways from this trip?
A- It is clear to me after attending this gathering that from a sustainability perspective: there is no easy solution to nuclear waste…except to move towards ending its production. The legacy of nuclearism worldwide is one of rising cancer rates, contaminated water, and toxic waste with nowhere to put it. Throughout Europe (and this is true in the U.S. as well), people are concerned about the transportation, storage, and production of nuclear waste…particularly the threats it poses to water, soil, air, and to future generations. At the gathering, I heard so many testimonies from people around the world who are impacted negatively by the nuclear fuel chain… which connects to the people of New Mexico and the devastating legacy of nuclear colonialism here. In particular, Indigenous people and people of color disproportionately bear the burden of toxicity, health impacts, and contaminated water and land. In Sustainability Studies, we concern ourselves with questions of justice and equity, and this topic challenges us to really ask "is this life-sustaining" and "is it just and fair?" These are questions I will continue to ponder… I'm extremely grateful to the Sustainability Studies Program for supporting my travel to this international gathering and I look forward to continuing the conversation on campus and in our community.