The Sustainability Studies Program Announces This Year's Marshall Kovitz Memorial Scholarship Recipient!
May 26, 2022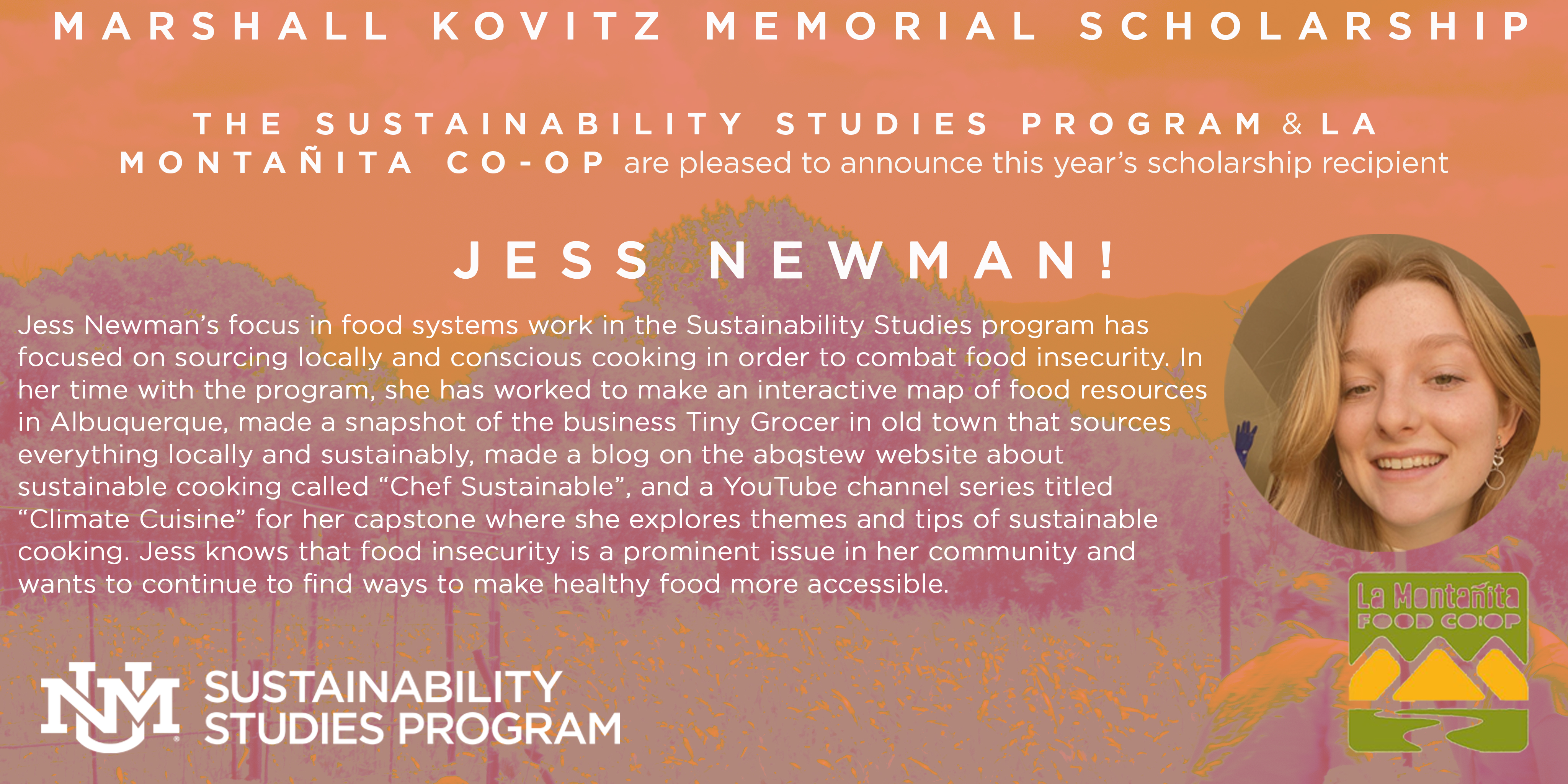 THE SUSTAINABILITY STUDIES PROGRAM & LA MONTAÑITA CO-OP are pleased to announce this year's scholarship recipient
Jess Newman
Jess Newman is currently a Junior Communication & Journalism major with a minor in Sustainability Studies. Read more about Jess's work in the program below. 
When I found out that ⅓ of UNM's students, including grad students, are food insecure I was shocked and disheartened. Growing up in Albuquerque has made me deeply connected with my community, and I knew that we could do better to provide resources to the UNM community. Curating delicious food is a passion and hobby of mine as well. This inspired me to focus on food security in most of my SSP projects. I truly believe that sustainability and food have endless connections and can be utilized to empower and uplift communities.
During my time in the SSP, I have made multiple resources for others focused on food justice. In the SUST 364 food systems class I made a snapshot of a local business named Tiny Grocer ABQ, a food blog on simple ways to adjust your lifestyle around food sustainability called "Chef Sustainable", and an interactive food map of Albuquerque that I created with my class partners Kineo Memmer and Kasey Lenning. This map is a resource to find where you can get fresh, local, and sustainable food throughout the Albuquerque area and can be found on the Student Projects page of the SSP website. 
This work all led me in the direction of my SUST 499 capstone project, titled "Climate Cuisine'', which is a miniseries on YouTube that I have created, filmed, edited, and posted myself. This series focuses on sustainable recipes to inspire and encourage others to make sustainable choices in the kitchen. This project was a lot of work, and I poured my heart and soul into it. I found that making my capstone a project that I cared about was vital to my success. It began with an idea to combine my interests, which are sustainability, food, and video creation. I had always been curious to make YouTube videos but would make excuses to hold back. I decided that this project was the perfect way to force myself to try it out. I do not regret it! I began by coming up with ideas for fun recipes to make and how to incorporate sustainable actions into the cooking process. I also watched some of my favorite cooking YouTubers to find details in their editing styles on why I enjoyed them. I came up with a plan and ran with it. Thankfully, it worked out! Video creation is so much more work than it looks like, and genuinely becomes a skill. I was completely in the dark with editing software and I now can use Adobe Premiere Pro, though I am no expert still. This project helped me gain confidence, filming and editing skills, cooking skills, and made me more sustainably conscious every time I cook. I am extremely proud of the effort that I put into this project as well as the product of what I was able to create. 
Food Justice is still a major problem in the Albuquerque and New Mexico communities that I will continue to fight for. Equity is a major part of this issue. I learned a lot about where food deserts form from the food systems map that I made with my partners in the Sust 364 class. There are obvious disparities of accessible healthy food in the poorer parts of Albuquerque, and I am sure that trend extends to our state and country. However, there is still amazing work being done in the community to combat this issue. Many of the CSA's (Community Supported Agriculture) in the vulnerable parts of Albuquerque, like the South Valley, work directly with their surrounding communities to provide better food access. For example, La Cosecha CSA, gives subsidized rates to South Valley residents. Additionally, many CSA's will take SNAP (Supplemental Nutrition Assistance Program), which is a federal food assistance program also known as food stamps or EBT, to help with food access for those that need it. You can find Albuquerque CSAs listed on the interactive food map linked above! We desperately need to support our NM farmers because they are the backbone of our local food system and work hard to feed our communities every day. 
Some tips that I have about eating more sustainably are no secret. One of which is cutting back your meat and animal product consumption. In the Intro to Sustainability class, I learned that the dairy industry (beef, milk, cheese, etc.) creates more greenhouse gasses in our atmosphere yearly than all forms of transportation combined (including planes, cars, ships, etc.) This fact absolutely blew my mind and I immediately stopped eating beef. Even cutting back on your beef consumption weekly can make a difference. This trend continues with dairy products, as they equally produce a high amount of greenhouse gasses. Another thing that can make a huge difference in your individual footprint is composting your food scraps. Composting seems very overwhelming of a concept when you begin, but it will soon become a habit. You can also see with your own eyes the amount of food waste that you are choosing to give back to the earth and create healthy soil instead of sending it to the landfill to rot and create more greenhouse gasses. There are plenty of resources on the internet on how to start composting and I encourage all to take 5 minutes to look into it! There are often programs that will help you with the composting process, like pick up services (Little Green Bucket in ABQ), and community gardens that would love to take your compost if you don't have space in your own home. You can check out more of my tips through either reading my blog on the abqstew website or watching any of my videos. (Links listed above)
Thank you so much to the Sustainability Studies Program for helping me find my calling and create meaningful projects in my academic career. I am endlessly grateful for everything the program has taught me and the support system it has become.
LA MONTAÑITA CO-OP
Learn more about our community partner and Marshall Kovitz, for which the scholarship is named.
---
---
The Co-op is New Mexico's largest community-owned natural foods market. We are your one-stop shop for all things fresh, fair, local, and organic!
The Co-op is a friendly neighborhood store where the community can stop by for beautiful produce from farmers down the road, delicious lunches prepared by our expert deli chefs, beautiful gifts handmade by local artisans, and a wide selection of local and organic groceries including bulk foods, meats and cheeses, and natural body care.
Any kiddos shopping with an adult can munch on a FREE piece of hand-held fruit while cruising our aisles, and our friendly and knowledgeable staff with over 1,500* years of experience are always on hand to make your shopping experience a great one. (*Yeah, we averaged the years worked per staff member—pretty cool, huh?!)
We opened our first store serving 300 families in 1976 at the corner of Central and Girard in Albuquerque. Since then, we have grown to 17,000 families owning six stores in Albuquerque, Gallup and Santa Fe—check out our "Locations" page here to learn more about them! All locations are open to the public; you do not have to be a member to shop.
As a cooperative, we strive to uphold the seven Co-op principles in all that we do:
Voluntary and Open Membership
Democratic Member Control
Member Economic Participation
Autonomy and Independence
Education, Training and Information
Cooperation among Cooperatives
Concern for Community
The Co-op is a leader in the local foods movement! We support local farmers through the Foodshed Project. This initiative helps local farmers and producers get their products into more markets. Over 1,100 local products from 400 local producers make it to small community grocers, restaurants, and commercial kitchens as a result of the Co-op Distribution Center. We believe in the shared benefits of healthy food, sound environmental practices and a strong local economy with results that justify the resources used.
We know local, but we call it community. We serve our membership, but we also collaborate with farmers, local food and environment advocates, and educators to build community awareness about the links between food, health and the environment.
We support:
Increased access to, and purchase of, healthy foods.
A growing regenerative agriculture sector that uses sound environmental practices.
A thriving and sustainable local economy that benefits members and community.
A strengthened co-operative community.
In Memory and Honor of Marshall Kovitz 
His many friends and relatives celebrate the life and mourn the death of Marshall Kovitz, who died on March 27, 2016 at age 68. Marshall was a quiet, kind, thoughtful, courageous, inspiring and multiply talented person. People in all walks of life loved and respected him.
He bicycled to Albuquerque from Boston in the 1970s. A few years after his arrival, he started the Bike Co-op at the corner of Central Ave and Girard. Committed to the concept of cooperatives, he became involved with La Montañita Food Co-op where he served on the Board of Directors for over 35 years.
Marshall was an avid bicyclist, hiker, and lover of the outdoors.