Jade McLellan 2020-2021 La Montanita Co-op Marshall Kovitz Memorial Scholarship Recipient
October 26, 2020
Jade McLellan is our 2020-2021 La Montanita Co-op Marshall Kovitz Memorial Scholarship recipient!
My name is Jade; I am a Senior, majoring in Biology with a minor in Sustainability Studies. I am also enrolled in the NM Beekeepers Association 2-year Beekeeping Certification Program and have been employed for the past seven years at the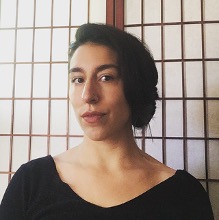 La Montanita Co-op in Santa Fe as the Purchaser and Lead Clerk for the cheese department. In this position, it has been my duty and pleasure to build relationships with ethical, sustainable dairies—in this process, I have witnessed first-hand the loss of local producers like Old Windmill Dairy, Coonridge, and Dream Catcher Ranchito. Born of this experience, my vision is to contribute to a more widely accessible community food network, facilitating public appreciation of and involvement in local foods, while actively supporting current producers and encouraging new ones. Both my professional work and volunteering with organizations like the NM Beekeepers Association, Downtown Grower's Market, and Three Sisters Kitchen have been vital in building my understanding of the needs of New Mexico's farmers and food businesses. New Mexico has been my home for most of my life, and I know it's crucial, now more than ever, to address the challenges of food justice faced by our community. My goal is to use outreach, education and public programs to bridge the gap between our growers and the tables they provide for.
This is a $1,000 scholarship that is awarded every year to a student who has applied for the scholarship and selected by our faculty.