Post-Fire Mitigation Field Day Upper Mora Valley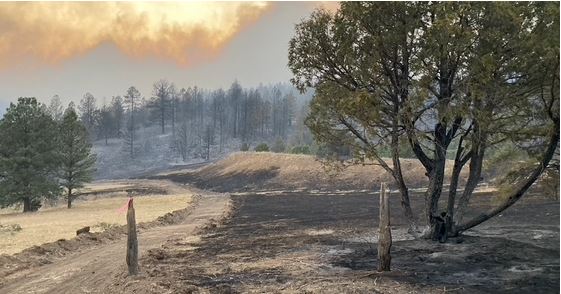 July 16, 2022 10:00 AM - 2:00 PM
La Sierra Farm in Cañoncito Canyon | 1 mile from 518 near Cleveland
The Hermits Peak/Calf Canyon Fire was the largest fire in New Mexico's recorded history, burning over 340,000 acres North of Las Vegas, New Mexico, since April 6, 2022. An early onset of monsoon rains has slowed the fires' progress but now the danger of flooding looms large. Local communities are in need of practical information about what can be done in the near term to mitigate soil erosion and run-off.
We'll meet at La Sierra Farm in Cañoncito Canyon (1 mile from 518 near Cleveland) to take a 2 hour walking tour with local Soil Health Champion and landscape ecologist Charles Curtin and High Watermark LLC. Within a short walking distance, we will demonstrate a range of vegetation and burn-intensity patterns in the post-fire landscape. We'll prepare some examples of simple ways to slow erosion and run-off that community members can use on their own property.
After our walk, we'll share a delicious local lunch from Teresa's Tamales. In an open dialogue, participants will have the opportunity to exchange experiences and talk about their own land if they wish. High Watermark staff will be on hand to answer questions and offer advice.
This field day is hosted in partnership among NM Healthy Soil Working Group and the Seeding Regenerative Agriculture Project.
Register HERE