UNM 2040 Launch Event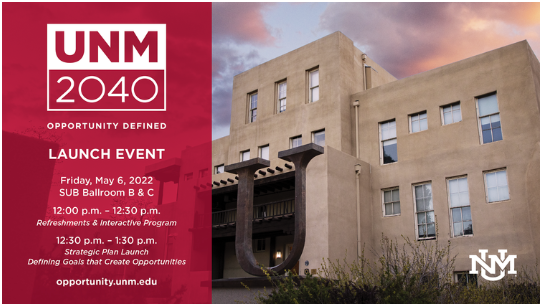 May 6, 2022 12:00 PM - 1:30 PM
UNM SUB Ballroom B & C | UNM Live Youtube Channel
The Lobo community has worked hard through various planning steps and engagement opportunities to arrive at a final plan that will guide UNM over the next two decades. The updated goals and objectives can be accessed on the website, attendees are encouraged to become familiar with them as we enter the implementation phase.
The event will take place in the UNM Student Union Building (SUB), Ballrooms, B & C. From 12:00- 12:30 we will have Dion's pizza available while it lasts, as well as some other refreshments. This time will be an opportunity to generate some interactive content through polling and conversation. The Launch itself will begin at 12:30, at which time the UNM president Garnett Stokes will be sharing our collective roadmap for the future, including updated and new statements of our vision, mission and goals, and as well as introducing our goal champions. This is a time to celebrate, discover why all of this matters to us as a University and as individual Lobos, and to get energized to really dig into our goals.
For those who cannot join in person – such as many of our branch campus colleagues – you are invited to watch the livestream on the UNM Live YouTube channel and participate virtually through MentiMeter polling during the event or ongoing UNM social media interactions. As always, your feedback on UNM 2040 is always encouraged.