Improving Desert Garden Soil - Workshop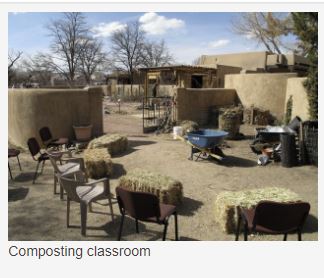 April 9, 2022 10:00 AM - 12:00 PM
Open Space Visitor Center | 6500 Coors Blvd. NW Albuquerque, NM 87120
Improving Desert Garden Soil: Amending desert garden soil is a continuous effort. The class will cover the basics of soil constituents, soil testing and the benefits of the soil food web. The value of finished compost will emphasized. Options for improving soil fertility and resiliency in the face of warm temperatures and low precipitation will be presented. Useful take-home information will allow participants to plan for and implement soil amending practices right away. Prior to the class a useful read, The Soul of the Soil by Grace Gershuny, posted at Reading Materials.The class will begin with a presentation in the conference room, then move outdoors, weather permitting.
Covid-19 guidelines will be followed.
To register send email to register@nmcomposters.org.
Instructor: John Zarola.
Presented by the BernCo. Extension Master Composters. NMSU: Bernalillo County Master Composters: Classes/Activities for the Public
Must Register for this workshop.
NOTE: Space is limited based on current COVID mandates.
Register for this workshop by emailing: register@nmcomposters.org