Environmental Education at a Crossroads: Mock Lecture with Scott Kellogg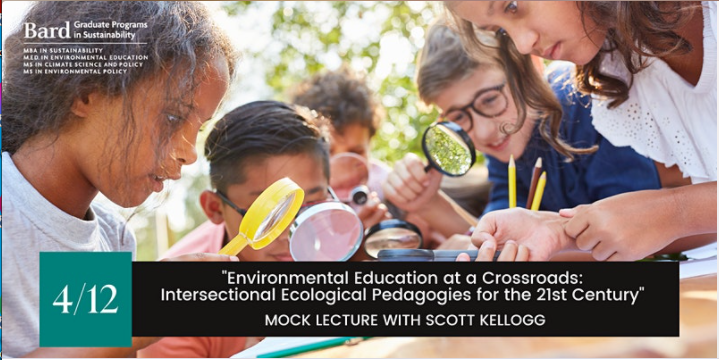 April 12, 2022 5:00 PM - 6:00 PM
Online Event
Join urban environmental educator, Scott Kellogg, for a mock lecture discussing intersectional ecological pedagogies for the 21st century.
About this event
Bard's Graduate Programs in Sustainability are pleased to host environmental educator, professor, and author Scott Kellogg* for a mock lecture titled "Environmental Education at a Crossroads: Intersectional Ecological Pedagogies for the 21st Century."
Rising awareness around the intersection of systemic inequality and ecological degradation has renewed public interest in the idea of environmental justice and its related topics of climate, food, and energy justice. Environmental Education, while traditionally focused on conventional environmental themes such as wilderness and conservation, must now embrace these socio-ecological concepts in order to remain relevant as a discipline. How can a transformation of environmental pedagogy be undergone in a way that makes environmental education accessible to historically marginalized populations? Much of this work is already underway within the cutting-edge areas of urban and place-based environmental education.
Join this lecture to discuss these questions as well as look at some innovative ways that environmental educators are bridging these worlds and pushing the field of environmental education forward.
___
*Scott Kellogg, Ph.D. is the co-founder and Educational Director of the Radix Ecological Sustainability Center, an urban environmental education non-profit in Albany, NY that maintains a demonstration site of regenerative tools and technologies designed to teach ecological literacy to youth. Scott's research is centered on the idea of "urban ecosystem justice" – examining through a pedagogical lens how questions of equity, access, and justice pertain to urban ecosystems. He is chair of Urban Agriculture on Albany's Sustainability Advisory Committee and Faculty in Environmental Education and Leadership in Bard Center for Environmental Policy's MEd. in Environmental Education program.
Register HERE