How to Find a Job in Sustainability - March 2022 Webinar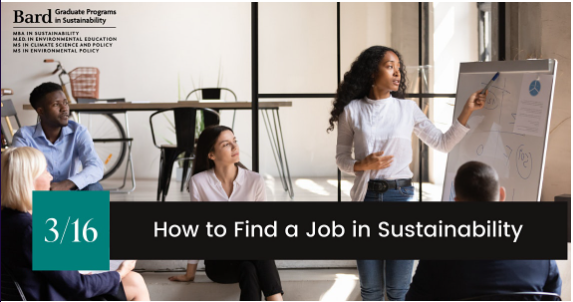 March 16, 2022 4:30 PM - 5:30 PM
Online Event
Engage with sustainability job market experts to learn how to launch your career in the field!
About this event
Are you ready to take the next step in your sustainability-focused career, but not sure how to make your move?
Join our free webinar to learn how to leverage your work experience into advancing your purpose-driven career! After the presentation, there will be a live Q&A.
ABOUT THE EVENT
Dr. Eban Goodstein, Director of the Bard Graduate Programs in Sustainability, will outline sustainability career pathways, as well as discuss graduate school and continuing educations options. Attendees will leave with a tailored, concrete job search strategy - which is why it is the perfect webinar for professionals looking for a career in sustainability.
Register HERE