Green New Deal Town Hall
February 17, 2019 3:00 PM
African American Performing Arts Center and Exhibit Hall 310 San Pedro Dr NE, Albuquerque, New Mexico 87108
This is a free event but space is limited so we need your RSVP by clicking on the link below to ensure you get a seat.
https://actionnetwork.org/events/green-new-deal-town-hall-with-rep-deb-haaland?source=email
&
The Green New Deal is a massive program of investments in clean-energy jobs and infrastructure, meant to transform not just the energy sector, but the entire economy. It is meant both to decarbonize the economy and to make it fairer and more just.
The Intergovernmental Panel on Climate Change gives humanity just over a decade to get carbon emissions under control before catastrophic climate change impacts become unavoidable.
Join our special guest,
Congresswoman Deb Haaland
to discuss how we can move forward together to enact policy changes that match the urgency.
Reception to follow the Town Hall.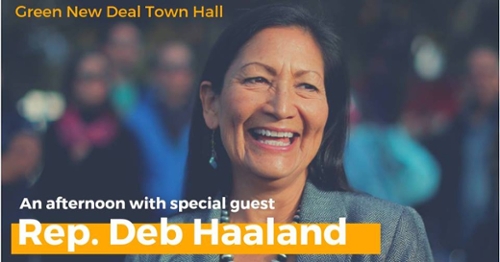 +++++ Town Hall event produced by 350 New Mexico