GLOBAL FUTURES INITIATIVE SPEAKER SERIES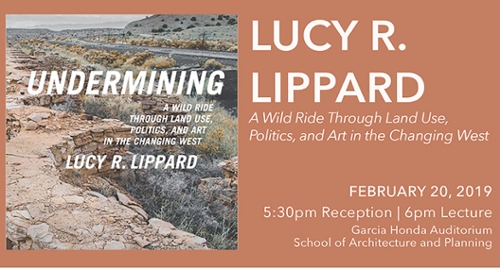 February 20, 2019 5:30 PM
Garcia Honda Auditorium, UNM School of Architecture and Planning
On February 20, the University of New Mexico will launch the Global Futures Initiative Speaker Series, with a lecture by art critic, historian, curator, and writer Lucy R. Lippard, followed by five more events over the next two months. Please see the announcement poster below and visit the web-page of the series for more information. The series is co-convened by Subhankar Banerjee, Lannan Chair and Professor of Art & Ecology, and Alyosha Goldstein, Professor of American Studies.
Global Futures is an interdisciplinary arts and humanities initiative for critical inquiry, pedagogical innovation, and social justice. The manifold and accelerating crisis of the current historical moment presents unique challenges that require creative new forms of research and collective action. The Global Futures Initiative brings together artists, activists, organizers, and scholars to creatively envision new social possibilities that connect community-based engagement and global movements for social transformation and planetary futurity. 

Lucy Lippard is an internationally known writer, activist, and curator. She has authored twenty-two books, has curated more than fifty major exhibitions, and holds nine honorary degrees. Lippard is the recipient of numerous awards, including a Guggenheim Fellowship and two National Endowment for the Arts grants. She lives in New Mexico.