Food For Thought: an Interactive exhibit about food insecurity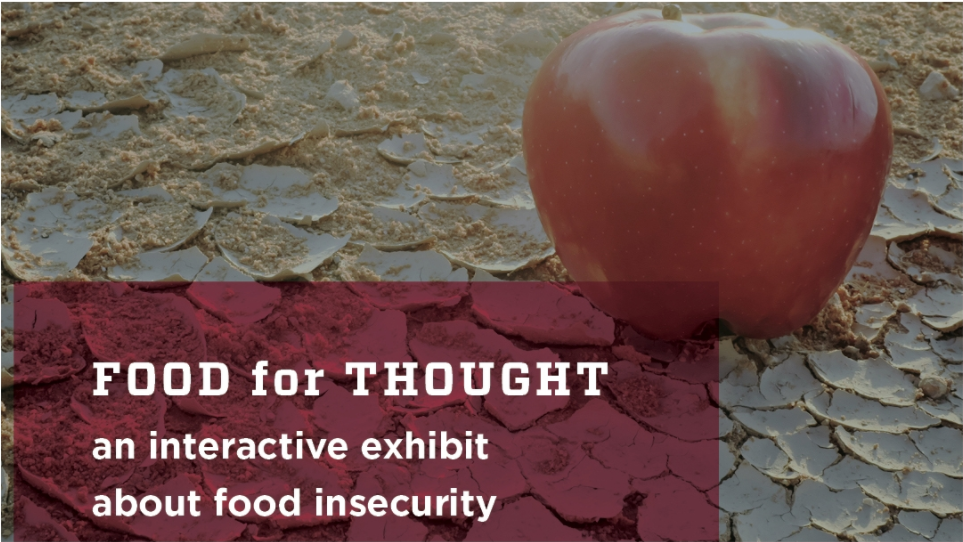 November 10, 2021 12:00 AM - 12:00 AM
Zimmerman First Floor Lobby
The University Libraries is a proud to feature Food For Thought: an Interactive exhibit about food insecurity.
The exhibit was developed and created by a student group in a University Honors course. The exhibit is located in the first-floor lobby of Zimmerman Library and will be on display from Nov. 10 to Nov. 30.
The students in Sarita Cargas University Honors 301-002 have been learning about the importance of offering support and bringing awareness to the issues of food insecurity on college campuses. As part of a project for this course students Reagan Barragan, Emmett Asencio, Zachary Bernius, and Sarah Johnson decided to curate an exhibit that would be displayed in the library in hopes of educating other students.
"Through our research we found that food insecurity can impact grades, physical health, mental health and drop-out rates. When we lose a student at the institution because it is difficult for them to find healthy food, we lose an important piece of our community," said the student group. "We hope to remove some of the stigma around food insecurity, educate students about resources available to them and listen to student's experiences."
The exhibit will be providing information about resources on campus such as the Women's Resource Center, who can assist students in filling out SNAP applications. The Lobo Food Pantry also requires only a student ID and a mask and is open throughout the week.
More information about these two resources can be found on their websites. 
Read original Lobo Newsroom article here.