CLEVELAND SOIL HEALTH WORKSHOP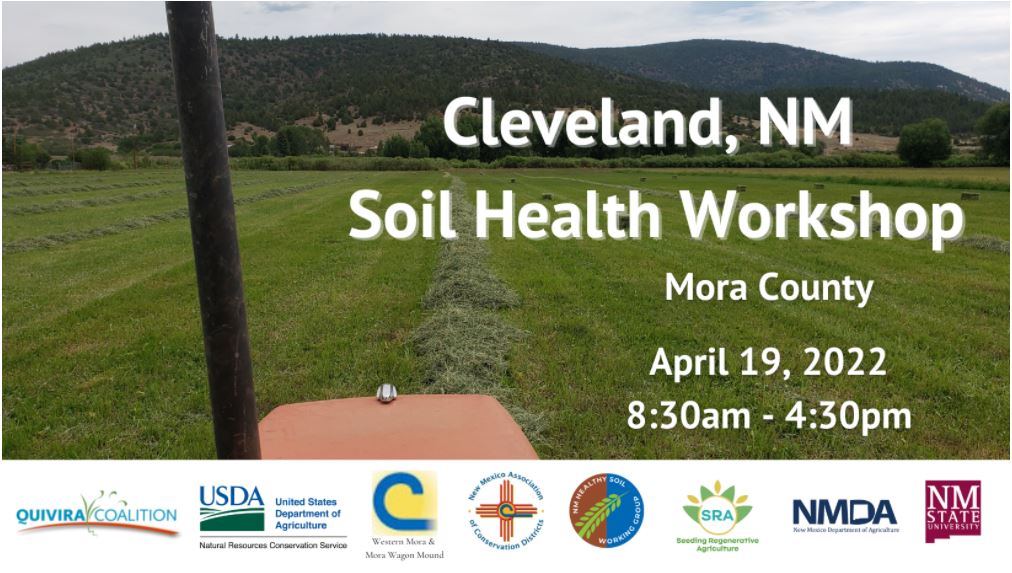 April 19, 2022 8:30 AM - 4:30 PM
Mora County
JOIN US FOR A SOIL HEALTH WORKSHOP IN MORA COUNTY, NM
This workshop is for agricultural producers to learn about soil physical, chemical, and biological characteristics of soil. No experience with managing for soil health is necessary, and we will have time to share experiences with others. You will also learn in-field assessments of soil health, such as observing compaction, infiltration rate, surface cover, aggregate stability, and more.
The workshop will be facilitated by Quivira's Carbon Ranch staff – Eva Stricker and Amy Larsen. Steve Kadas from NMACD and Isabelle Jenniches from Healthy Soil Working Group will co-facilitate. Brief afternoon presentations will be given by staff at Western Mora and Mora Wagon Mound SWCD; NRCS; Seeding Regenerative Agriculture and more!
This workshop was developed in collaboration between Quivira Coalition, New Mexico Association of Conservation Districts and NM Healthy Soil Working Group.
After completing this workshop, you'll be able to:
Understand the healthy soils principals and plan or implement one or more strategies on your farm/ranch.
Better understand soil chemical, physical and biological characteristics, and consider these when planning for soil health.
Learn about some field testing options and what they can tell you about the health of soils.
Meet and network with other agricultural professionals and peer farmers who can offer support in soil health practices.
Learn about programs and funding opportunities that can assist with healthy soil management practices.
Check out this workbook for a deeper dive into workshop content. There is no cost to this workshop. Breakfast, lunch, beverages and snacks will be provided. More workshop logistics information will be provided after registration.
Contact Amy Larsen, amy@quiviracoalition.org, with any questions.
Register HERE