New Mexico RISING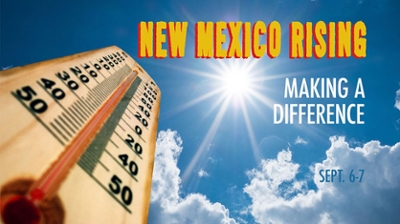 September 6, 2019 5:45 PM - 5:00 PM
UNM Continuing Education 1634 University Blvd NE, Albuquerque, New Mexico 87102
Join us in exploring the effects of climate disruption globally and here in New Mexico, while also learning how you can make a difference.
FILMS:
• Wildlife Without Borders: Wildlife Across the West
(the first film in a new series, and the CAVU PREMIERE in ABQ)
• What isn't there to love about New Mexico? (2017, 15 min.)
• Changing Landscape (2018, 16 min.)
• Is New Mexico ready to be the next Saudi Arabia? (2018, 32 min)
• Unfractured (2017, 91 min.)
• The American Southwest: Are we running dry? (2008, 23 min.)
• The Soil Story (2015, 4 min.)
• Sacred Land, Sacred Water (2018, 53 min.)
SPEAKERS:
• Ray Powell, former NM Commissioner of Public Lands
• Dr. David Gutzler, Ph.D, UNM Professor of Climatology
• Dr. Sandra Steingraber
• Elizabeth J. Kistin Keller, Ph.D, First Lady of Albuquerque
• Kelsey Rader, Sustainability Officer, City of Albuquerque
• Maya van Rossum, author and activist
• Delese Dellios, with
350.org
& Youth activists
• Theresa Cardenas, President, Middle Rio Grande Water Advocates
• Tarin Nix, State Land Commission
• Phoebe Suina, Cochiti and San Felipe Pueblos
• Donald T. Phillips, geologist and screenwriter
• Craig Barth, publisher and filmmaker
BREAKOUT DISCUSSION SESSIONS:
• Using the media to get our message out, Garrett Vaneklassen
• Climate Change effects on wildlife management and public lands, Jesse Deubel & Tarin Nix
• The Green Amendment: Securing our right to a healthy environment, Maya van Rossum
• Changing personal habits to make a difference, Craig Barth
• Resilience in New Mexico Agriculture, Christina Allday-Bondy
• Climate-related Legislation passed and needed, Melanie Stansbury & Isaac Benton
Vegetarian lunch will be served. Please bring your own reusable water bottle.
View the detailed schedule and register online at
nmclimatefilmfest.org.