UNM expo advocates for sustainability
April 22, 2019 - Amanda Britt
The University of New Mexico's Sustainability Program hosted their 11th annual Sustainability Expo last Thursday.
Students and other members of the community partook in several sustainable activities, including a clothing swap, purchasing plant starters, learning from multiple sustainable organizations and eating locally sourced food from different food trucks. 
The Cornell Mall was decorated with booths overflowing with plants and flowers, something UNM student, Abby White said she enjoyed seeing. 
"I really like seeing all of the plants on campus," White said. "All of the people selling little starter plants– (it's) awesome."
Sharable bicycle companies like Pace provided people with a sustainable way to get to the expo.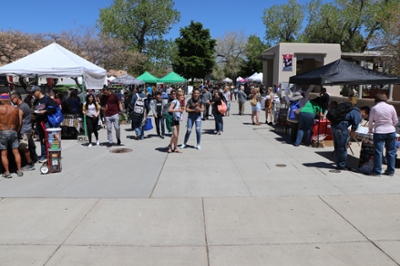 Emma Trejo, a Pace rebalancer, said Pace provides people with a new and easy way to get around in Albuquerque. 
"We're trying to make it more accessible for people to get around easier," Trejo said. "More people riding bikes means less people driving cars, so Pace helps to prevent that kind of traffic. I think the city is expanding a lot, and Pace allows for a faster way to get around and be able to rent a bike if you don't already own one." 
For freshman student Gregory Romero, seeing multiple groups on campus take part in the sustainability expo was important because it gives students a chance to get involved.
"I'm interested in learning more about local programs in New Mexico that deal with sustainability, because it's something I'm concerned about," Romero said. "To see different groups at this expo which are here in New Mexico, and that I never knew about, is really exciting for me."
An aspect of sustainability that many students were interested in at the annual festival was sustainable clothing. UNM senior and sustainability student, Natasha Phelps ran the clothing swap booth, where students brought gently used clothes to swap them out for different pieces of clothing other students brought. 
Phelps said she has interest in many parts of sustainability, but she really wanted to focus on the aspect of sustainable clothing.
"I really wanted to dive into the clothing aspect of sustainability, so I decided to do a research paper and project on fast fashion, ethics and solutions we could come up with to improve the fashion industry," Phelps said.
For Phelps, being a part of the expo and seeing people get excited about using second-hand clothing and sustainability was a rewarding experience.  
"I like feeling like I'm making a difference," Phelps said. "I think for me to actually see people be excited about second hand clothes."
Amanda Britt is a freelance reporter for the Daily Lobo. She can be contacted by email at culture@dailylobo.com or on Twitter @AmandaBritt__.