Sustainability Related Jobs and Internships
JOBS & Internships 
Student Conservation Internships
Imagine working as a park ranger for the summer and gaining excellent career building skills such as public speaking, customer service, and basic graphic design skills. Stop dreaming and apply to the SCA Internship at White Sands National Monument. 
The Student Conservation page offers a variety of different internships, with multiple locations. Check out their page for more internships and how to apply. 
Sierra Corps Forestry Fellowship Program
The program is seeking enthusiastic, conservation-minded people to commit to a year-long fellowship working to restore Sierra forests and build resilient communities. The Sierra Nevada Alliance will place three to six Fellows with environmental organizations throughout the region for a year of forest-health related employment.
Find out more about this posting and what the qualifications and applicant requirements are here. 
Doris Duke Conservation Scholars Program
D
o you like spending time outdoors? 
I
nterested in land, water, or wildlife conservation? 
V
alue a sustainable future?
E
anger to learn with a diverse group of scholars? 
R
eady to undergo an intensive two-year training? 
S
eeking a career in conservation? 
I
nspired to lead and make a difference? 
T
hinking of ways to promote diversity, equity and inclusion? 
You could be our next scholar!
To be eligible, you must be: 
A current freshman, sophomore, or junior enrolled in a college or university.

A U.S. citizen, permanent resident or Deferred Action for Childhood Arrivals (DACA/DREAMers).

A student in good standing with a grand point average of at least 2.75 out of 4.0. 
To apply and find out more about this program check out the Doris Duke Conservation site.
CAMP Peer Leader/ HEP CAMP Office Assistant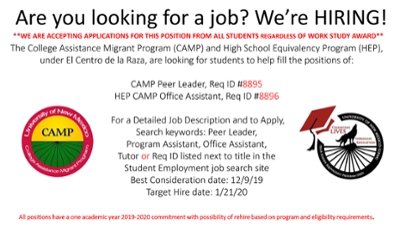 Albuquerque Center for Peace and Justice
Executive Director
The Albuquerque Center for Peace and Justice (ACPJ) is looking for a dynamic leader to join our team as Executive Director (ED). The ED is a full-time staff member who will work collaboratively with our Coordinating Council (CC) to develop and implement vision and strategy, and is primarily responsible for managing all of the operational, fundraising, and programmatic work of the ACPJ.
Job Summary
The ED will work collaboratively with the Coordinating Council (CC) to set priorities and direction for the organization and implement the mission, vision, and strategic plan of the ACPJ. The ED will be responsible for implementing and managing the CC's vision for fundraising and development activities of the ACPJ, in addition to overseeing the financial administration system and upkeep.

Strong candidates will have a passion for and commitment to racial justice and gender equity, a deep understanding of the structural inequities that drive violence and injustice, and a belief in the ACPJ's work to provide space and resources for people to build power to create change. Aligned with our values and history, the ED will demonstrate commitment to collaboration, and will have a strong grounding in principles of consensus-based decision-making.
Find out more about this posting at the Albuquerque Center for Peace and Justice site.
FoodCorps
FoodCorps believes that every child—no matter their race, place, or class—has a right to healthy food at school. If you share our passion and want to serve this mission as an AmeriCorps service member, we'd love to meet you!
 As an AmeriCorps service member, you will serve at one to two New Mexico schools during the 2020-2021 academic year. Your goal: teach kids about healthy food at school. How you get there will depend on you, with support from us!
Interested? Learn more about what it's like to serve with FoodCorps by signing up here. 
CivicSpark
CivicSpark hires about 90 Fellows each year to work on climate, water and opportunity/access projects for 11 months, placing fellows in public agencies and non-profits across California. The cool thing about this is that there is a huge emphasis on advancing the projects from an equity and environmental justice lens. Fellows in CivicSpark are also required to attend mandatory trainings and webinars on a variety of subjects while also learning from amazing leaders. As an example, EJ professor from Yale was one of the speakers at a webinar!
For more information about CivicSpark visit their site here.
If you would like us to post a job or internship opportunity on our website, please email us at sust@unm.edu