Outcomes & Advisement Information
Broad Goals for SSP Outcomes Assessment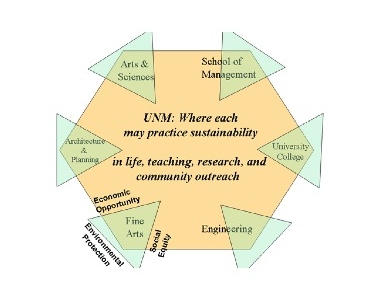 The purpose of the Outcomes Assessmentis to define measurable end-of-program student-learning outcomes (SLOs).
Advisement Form
Check out the current Sustainability Studies Advisement Form to see any new courses added under any of the three (3) Areas of Focus that may not appear in the current UNM Catalog.
New courses are added to the Areas of Focus as they are developed. These must be approved by Program Director Professor Melinda Morgan.
Please note that it typically takes 4 to 5 semesters to complete the requirements for the Sustainability Studies interdisciplinary minor. For a complete look at the degree program see our advisement brochure. 
To schedule an appointment to discuss the Sustainability Minor Program or to declare the minor, please contact our Advisor Maggie Sumruld via Lobo Achieve; Academic Coordinator Faron Stout at fstout@unm.edu;or Director of the Sustainability Studies Program Melinda Morgan, mhbenson@unm.edu.