Monica Kowal, a Lobo Gardens ally
March 28, 2019 - Colton A. Newman
For many students who have a background in sustainability, it's probably not new news that the University of New Mexico houses Lobo Gardens. This is a public garden with the mission to engage the UNM community and partners with the opportunities to work with nature and learn about food systems, pollinator plants, and organic growing. What people might not be aware of is who's been maintaining it and the very important partnership it's made with Monica Kowal who is the Director of Community Engagement Initiatives for the Office of the Provost. 
Although Monica Kowal was born in Houston, Texas she is a bonified New Mexican who found herself studying at UNM for her undergraduate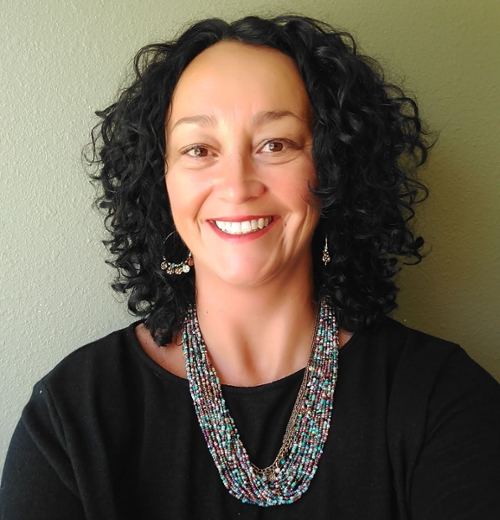 degree. She obtained her degree from UNM in English, specifically in creative writing with a minor in journalism. From UNM, Monica found temporary homes in Austin, Texas and New York City, where she worked as a financial journalist for Reuters International News Services. She also was the National Photo Editor at The Associated Press. 
It wasn't until 9/11 happened that Monica felt like news started to change. According to her, journalism became"flamboyant, divisive, and more like a spectacle." Monica began to feel very "disenchanted" with the direction the news was taking. This led her to obtainher Master's Degree in teaching while working at a New York City high school. After a stint there and returning to The Land of Enchantment to receive her Ph.D. from the New Mexico State University in 2013, she came full circle and returned to UNM to work in the Office of the Provost and Vice President for Academic Affairs as their Director of Community Engagement Initiatives. 
In Monica's current position she collects data regarding community engagement for programs across the UNM campus. Tema Milstein, who was an Associate Professor in the UNM Geography and Environmental Studies Department, along with a handful of students, approached Monica to persuade her about the need for a program and a class based around Lobo Gardens. With keen interest in bees and beehives, Monica's husband introduced her to food systems. She is excited to support Lobo Gardens' mission.
Currently Monica is working with Christina Lucas who was recently hired to maintain Lobo Garden full time. This was the first and one of the biggest hurdles faced to ensure Lobo Gardens has a bright future. Contributors to Christina's salary include the Office of Sustainability, the Sustainability Studies Program, and the Department of Fish and Wildlife. 
With Monica's help, Christine is expanding Lobo Gardens by working with UNM architecture students to design a new proposed space, to finalize Lobo Gardens as a UNM course that can be cross-listed among a variety of departments, and to secure funding for the present and future.
For questions regarding Lobo Gardens contact, Monica Kowal at kowal1@unm.edu