Growing Climate Solutions in Healthy Soil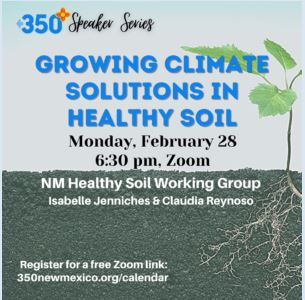 February 28, 2022 6:30 PM - 7:30 PM
Online Event
Presented By: Isabelle Jenniches & Claudia Reynoso, NM Healthy Soil Working Group
Restoring soil health holds the promise of reversing climate change by drawing down carbon from the atmosphere, and rebalancing the water cycle in our arid environment. It's a simple and effective solution to a multitude of fundamental problems caused by exploitative and extractive industrial systems –and yet it is not often discussed or understood within the climate movement.
This talk will provide an overview of the principles of soil health, what the climate benefits are and how you can get involved in advancing this important climate solution!
Isabelle Jenniches is co-founder of the NM Healthy Soil Working Group, a grassroots advocacy group that formed in 2018 to pass the NM Healthy Soil Act. A skilled community organizer with experience in policy and farmer-to-farmer education, Isabelle is dedicated to realizing soil health as a climate solution.
Claudia Reynoso is a principal of the NM Healthy Soil Working Group. A passionate and effective educator, she helps farmers and ranchers take advantage of funding opportunities for conservation and works with volunteers and youth to promote soil health stewardship.
Register HERE