Driving Justice, Equity, Diversity, and Inclusion [Virtual Book Release]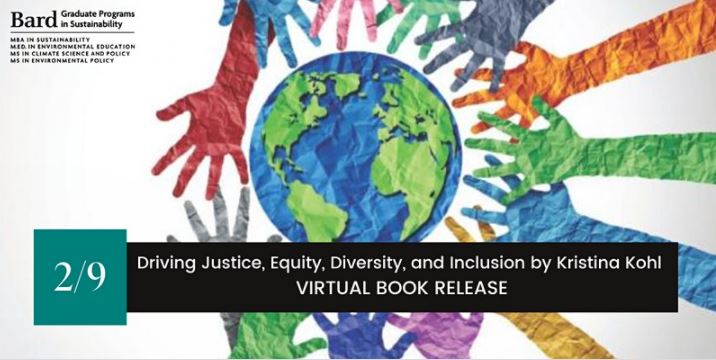 February 9, 2022 4:30 PM - 5:30 PM
Online Event
Join thought leader Kristina Kohl for a talk about her new book's focus on creating organizations that authentically welcome diverse voices.
About this event
Bard's Graduate Programs in Sustainability are pleased to host business owner, consultant, sustainable business leader, professor, and author Kristina Kohl for a conversation about her new book, Driving Justice, Equity, Diversity, and Inclusion. Fellow Bard professors, and contributors to the book, Gilles Mesrobian and Kathy Hipple will be joining Kristina in this virtual event to provide attendees with strategies to rebalance power and break down systematic barriers to create organizations that authentically welcome diverse voices.
Kristina is the managing principal of HRComputes, a management consulting firm, providing advisory and technical support for people management digital solution selection, client-side implementation and optimization. She is a diversity, equity, and inclusion thought leader and frequent speaker; and was named a 2020 Beacon ICON Award recipient for her work in women's leadership and to the SJBiz 2020 Women to Watch List. Kristina is the Building Sustainable Organizations professor and DEI Committee faculty advisor for the Bard MBA in Sustainability.
As mentioned above, for this event Kristina will be joined by two other Bard professors. Please find additional information on those contributors in the links below:
Register HERE