Mandala Festival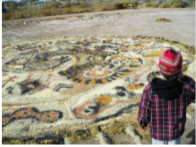 December 18, 2021 11:00 AM - 2:00 PM
Albuquerque Open Space Visitor Center
Celebrate Winter Solstice by helping create a seed mandala, learn about winter planting and tree protection and listen to Solstice Storytelling. 
Mandala
Come in at any time to help create the Mandala. Seed is available for you to use and your creativity will help determine the completed Mandala.
11:00 am - Winter Planting for Spring
Presented by Peter Callen
Location - Edge Garden
Did you know that you can plant in the Winter for Spring? That it can be better to plant in the Winter rather than wait for Spring? 
Space is limited so please register at (505) 768-4950
12:00 pm - Protecting trees with Biodynamic tree paste 
Presented by Phillip Eliezer Klein
Location - Traditions Garden
What is Biodynamic tree paste? Biodynamic tree paste fertilizes trees, and protects trees from pest, disease, and frost. What is Biodynamic Gardening? Come learn about that and more.
Space is limited so please register at (505) 768-4950
1:00 pm - Storytelling
The Magic of Light: Celebrating this Season in Story and Song
To celebrate the season, Regina Ress and Scott and Johanna Hongell-Darsee bring tales and songs from around the world to the ABQ Open Space Visitor Center. As we head toward the Winter Solstice, this hour of multi-cultural storytelling and music invites the light to return and with it a sweet new year.