UNM's Annual Sustainability Expo is back
April 15, 2019 - Amanda Britt
The 11th annual University of New Mexico Sustainability Expo will be held Thursday, April 18, from 10:30 a.m. to 2:30 p.m. at Cornell Mall – just east of the Student Union Building on UNM's Main Campus. 
This one-day event will feature local farmers and food trucks, live music from Eryn Bent– a Santa Fe folk artist, a clothing swap and a variety of opportunities to learn about sustainable practices and connect with community partners.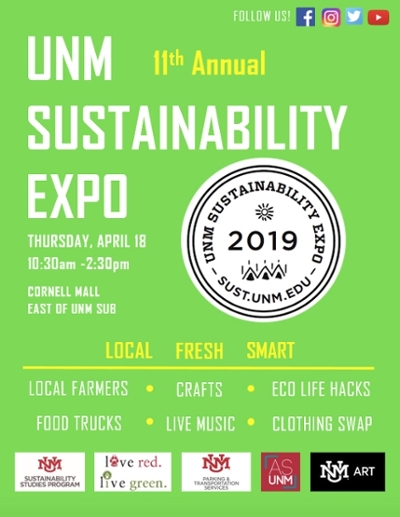 The event is presented by the UNM Sustainability Studies Program. According to the program's online home page, they provide hands-on, community-focused learning that informs student's academic work, careers and personal lives.
Every year the Sustainability Expo is unique, because of the different students helping to put it together, and the different vendors willing to participate.
This year the expo will feature a student-lead clothing swap, which encourages students to bring their gently used clothes to be exchanged with other students. The expo will also have a clothing recycling booth, partnered with H&M.  
Additionally, 111 Media Collective T-Shirt Lab will be screen printing custom designs onto T-shirts students bring in.
Another addition to this year's expo is the pop-up bike share station. Students will be able to learn about the Zagster and Pace programs, download their apps and try out shared bicycles - which are currently used around Albuquerque.
UNM Sustainability Studies Program Lecturer, Jessica Rowland, said that the expo will provide several hands-on opportunities for attendees to learn about sustainable practices, including composting and water conservation. It will also allows students to connect with campus and community organizations who value sustainability and are offering jobs and internships.
"Sustainability is about balance. It's about today and tomorrow," Rowland said. "It's a way to think about how our actions impact the planet. Most importantly it's a lifestyle and course of action to actively work toward a better tomorrow.
Rowland said it is rewarding to teach passionate, energetic students about sustainability and see them make the world a more resilient and equitable place.
"The most rewarding part of teaching students about sustainability is watching them grow into advocates who are working to make our community a better place to live," Rowland said. "Our students become organic farmers, scientists, community planners and green architects, environmental economists and policy makers, teachers and more."
Chloe Ikard, a student studying sustainability, said she enjoys being a part of the program because it deals with a lot of the issues she cares about, specifically in her community.
"I like being a part of the sustainability program because I have learned a lot of skills like marketing and communication," Ikard said. "I enjoy the program all together because it promotes diversity and is a warm and friendly community to be a part of."