Info Sessions: The Worldwide Teach-In On Climate & Justice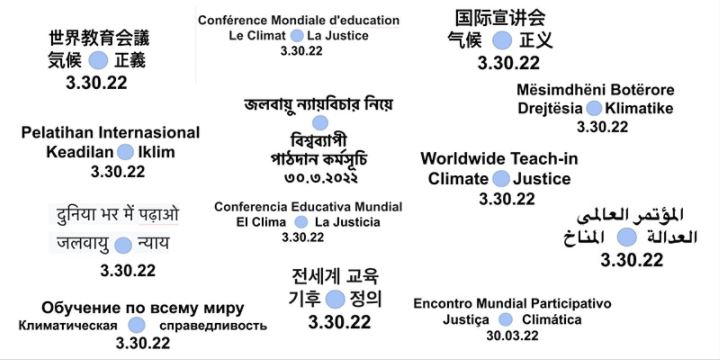 February 2, 2022 8:00 AM - 8:30 AM
Online Event
About this event
Calling all Climate-Concerned Educators, Students and Community Members!
On March 30, 2022, over 1,000 Colleges, Universities, High Schools and K-8 schools worldwide will engage over half a million people, online and in-person, in a one-day Teach-In on climate solutions and justice in the transition. Faith groups, civic organizations and businesses can participate too.
Join a 30-minute virtual information session to learn how to easily organize a three-hour teach-in on your campus or at your organization.
We are offering an info session on the first Wednesday of each month, August through December 2021, during the following times:
4 PM Paris
10 AM/3 PM NYC
10 AM Hong Kong
Is your campus already part of the WORLDWIDE TEACH-IN on Climate and Justice?  Find out on this map.. On March 30, 2022 hundreds of Colleges, Universities, High School/Middle Schools, K-6 Schools and Faith Organizations will be participating. We have 3 models to make hosting an event in your community SIMPLE. 
Our model invites intersectional discussions focused on local solutions. As educators, we are stronger together. For more details check out this How-To page on what each event looks like. 
Please register here with the intent to host in your community as soon as possible. We provide detailed easy to execute 10 Step Guide via email to participants. 
We are available to meet 1:1 with anyone interested who may have questions, concerns, or ideas. solveclimate2030@gmail.com. 
Register HERE