2040 (2019) Film Screening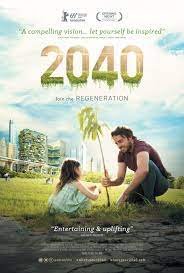 February 17, 2022 5:30 PM - 7:30 PM
Dane Smith 123 | Virtual
Join us this spring for a selection of films brought to you by by the Sustainability Studies Program! Each screening will include complimentary snacks & beverages beforehand with a follow up discussion including special guests to unpack what sustainability means to you and the community. 
5:00 p.m. | Join us in the courtyard of Dane Smith Hall for local plant-based refreshments
5:30 p.m. | Screening begins 
Film will be followed by a discussion with special guests
Dane Smith Hall room 123 is reachable via ramp access. Please feel free to reach out to fstout@unm.edu if there are any questions about the facilities. 
We will be including captioning featured on the livestream for the discussion portion of the event. Please reach out to fstout@unm.edu for any questions regarding the virtual aspect of this event. 
2040 
(2019)
Concerned about his young daughter's future, filmmaker Damon Gameau travels the world in search of new approaches and solutions to climate change. He meets with innovators and changemakers in many fields to draw on their expertise.
We will be livestreaming the film as well as follow up discussion. 
Register HERE for livestream.