Open Space Trail Watch Volunteer Training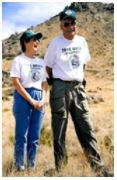 January 29, 2022 9:00 AM - 12:00 PM
Open Space Visitor Center
Do you enjoy spending time outdoors?  
Do you want to get to know Albuquerque's 30,000 acres of Open Space as well as local flora and fauna, or do you already have an expertise?
Are you looking for a way to give back to your community? 
Becoming a Trail Watch Volunteer could be a great opportunity! 
Please call 505-768-4960