NMELC presents its EJ Series featuring YUCCA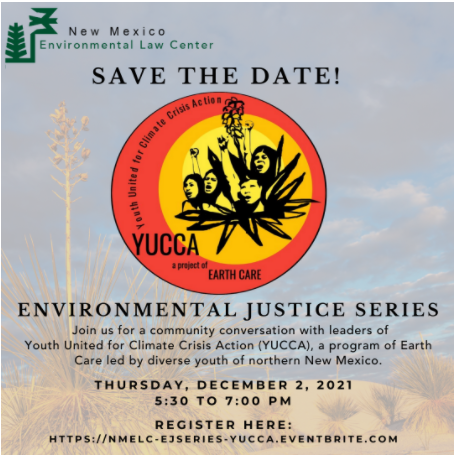 December 2, 2021 5:30 PM - 7:00 PM
Online Event
Join us for our EJ Series featuring a community conversation with leaders of Youth United for Climate Crisis Action (YUCCA), a program of Earth Care led by diverse youth of northern New Mexico.
YUCCA  will be presenting on their work and on the importance of youth leadership and involvement in the legislative session.
This is a free event that will be held online over Zoom. 
Register Here
YUCCA is part of the youth-led movement that is igniting all over the world to fight for a livable future. They are also a part of the social, economic, and environmental justice movements of northern NM through their work with Earth Care as well as through their membership of other organizations and communities. They work intergenerationally, cross-culturally, and intersectionally. They align with all struggles for liberation across the world and actively work to combat all forms of oppression. 
YUCCA is coordinated by Earth Care—a local nonprofit that trains young activists in social and environmental justice organizing and supports intergenerational campaigns to advance climate justice, transformative education, sustainability, democracy, and civil rights.
For more information about YUCCA, check out their website HERE
This is a free event that will be held online over Zoom. Register here at Eventbrite in order to be emailed the zoom link.
If you have any questions, feel free to email NMELC at nmelc@nmelc.org.