Sustainability Students Try the Impossible Burger
April 30, 2019 - Colton A. Newman
When our Sustainability 434 class heard that the local Albuquerque restaurant Flying Star would be serving the Impossible Burger they asked instructor Bruce Milne if they could have class at Flying Star to try it out. 
The Impossible Burger uses soy and potato as protein substitutes, heme to create its meat like flavor, coconut and sunflower oils as fat substitutes, and methylcellulose as its binder. The Impossible Burger tastes like meat, uses a lot less water and land, is made for meat lovers, is full of vitamins, looks meaty due to leghemoglobin, has 90% less cholesterol, no trans-fat, and just 240 calories.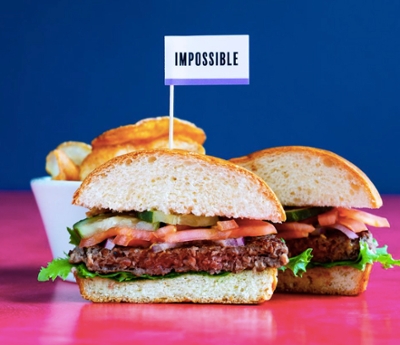 It seems that the Impossible Burger is a win for people who can't kick their red meat cravings and a win for the environment. Most of the students on the field trip expressed that they probably couldn't pick the Impossible Burger out of a lineup of regular red meat burgers. 
With the gracious hospitality of Flying Star owner Jean Bernstein, the sustainability class had a tasting extravaganza including the Impossible burgers, Jean's own flexitarian burger, and even vegan cake!
This kind of on-topic field trip is what makes Sustainability Studies courses so unique. We hope to have more trips like this in the future so that we may expose our students to new green trends and to help them step out of their comfort zone.
The Sustainability Studies Program would like to thank Jean; we'll be back for more!