Solar Sunday | St. Thomas of Canterbury Episcopal Church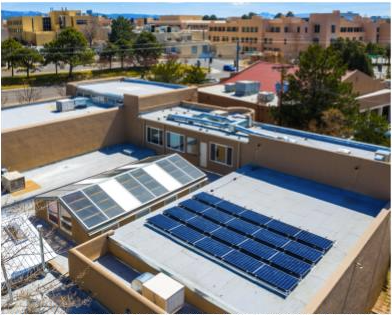 April 24, 2022 11:15 AM - 12:30 PM
St. Thomas of Canterbury Episcopal Church | 425 University Boulevard NE
On Sunday, April 24, St Thomas of Canterbury Episcopal Church will hold a celebration for its newly installed solar panels. Following a special Earth Day service, a blessing will be performed by their bishop, Rt. Rev. Michael B. Hunn, at around 11:15 am. The public is invited. The church is located across from the UNM campus at 425 University Boulevard NE.
The solar installation is the culmination of a series of classes many years ago about how church members could be better stewards of God's creation, "this fragile earth, our island home." A committee, Canterbury Advocates for a Sustainable Environment (CASE) was formed and worked to find the most feasible way forward. Solar panels were finally installed in the midst of the pandemic, and the church is already significantly reducing its carbon pollution and saving money. And the church didn't have to spend anything upfront for the installation.
With the help of New Mexico Interfaith Power and Light (NMIPL), a valuable advisor in the endeavor, Canterbury congregants were introduced to RE-volv, a climate justice nonprofit that helps community-serving nonprofits across the country go solar with no initial financial investment. Canterbury, the first organization in New Mexico to partner
with RE-volv, has been a pioneer in promoting environmental responsibility within the faith community. RE-volv helped Canterbury go solar by financing their solar system. Over the course of the lease, Canterbury will pay back RE-volv for the upfront cost of the solar system and their solar payments will be put into a Solar Seed Fund, which RE-volv will use to bring solar to more nonprofits.
"I can't tell you what a relief it was not to have to ask our congregation to contribute to the installation cost," said Sally Barlow, who currently chairs CASE. "RE-volv worked patiently with us and helped us choose NM Solar Group, our local solar installer. Now we're hoping to be an example for others who want to rely more on renewable energy; we're eager to share our experience with them."
RE-volv is a nonprofit organization that has assisted nearly 50 churches, synagogues, and other small community nonprofits to fund their solar projects. It has been honored for its innovative approach to solar financing. In addition, RE-volv's Solar Ambassador program trains college students and community members for future employment in the renewable energy field, and Solar Ambassadors help bring solar to a local nonprofit in their community.
"New Mexico Interfaith Power and Light enthusiastically supports St. Thomas of Canterbury's collaboration with RE-volv on this pilot project in New Mexico," said Sr. Joan Brown, NMIPL Executive Director.
The event will be held at the church entrance at their location at 425 University Boulevard NE. near the intersection of Martin Luther King Jr. Boulevard. In addition to the Bishop, former Canterbury rector Carole McGowan and current interim priest Fr. Ted Curtis will participate. Representatives of N-IPL, RE-volv, and NM Solar Group, as well as key congregants, and others will be introduced. Members of other faith organizations and non-profits are especially welcome to learn more about the process. Both the event and the church service are open to the public. A reception will follow in the church parish hall.
For more information, contact Anne McCormick at aomcc.abq@gmail.com or call the church office at 505 247 2515