Rediscovering Earth – and Hope – in an Age of Loss: A Conversation with William deBuys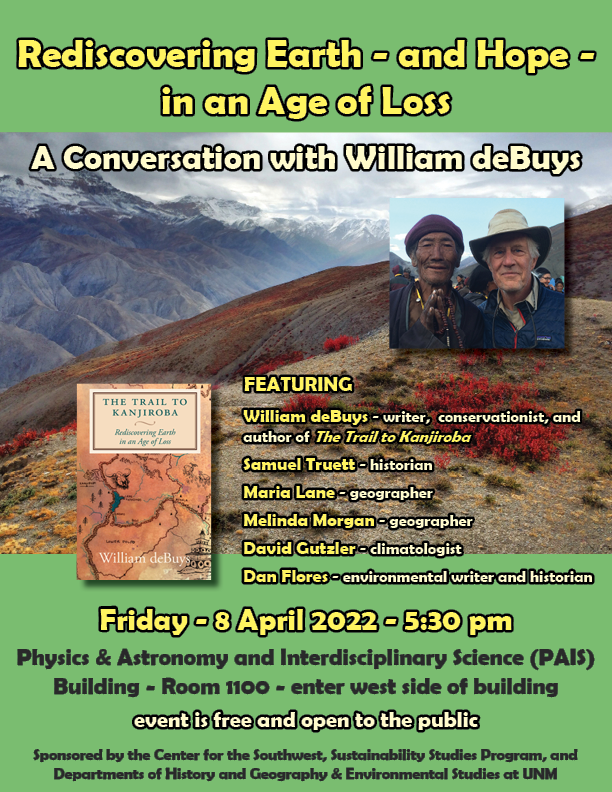 April 8, 2022 5:30 PM - 7:00 PM
Physics & Astronomy and Interdisciplinary Science (PAÍS) Building | Room 1100
The Center for the Southwest, in collaboration with the Sustainability Studies Program, the Department of History, and the Department of Geography & Environmental Studies at UNM, is pleased to announce a special evening event linked to the publication of The Trail to Kanjiroba: Rediscovering Earth in an Age of Loss, by Pulitzer Prize finalist and New Mexico writer and conservationist William deBuys.
A Trail to Kanjiroba is the final volume in what deBuys calls "an accidental trilogy" of books on the fate of the earth and humanity, a trilogy that began with A Great Aridness: Climate Change and the Future of the American Southwest and The Last Unicorn: A Search for One of Earth's Rarest Creatures.
In 2016 and 2018, deBuys joined extended medical expeditions into Upper Dolpo, a remote, ethnically Tibetan region of northwestern Nepal, to provide basic medical services to the residents of the region. Having written about climate change and species extinction, deBuys went on those journeys seeking solace. He needed to find a constructive way of living with the discouraging implications of what he had learned about the diminishing chances of reversing the damage humans have done to Earth; he sought a way of holding onto hope in the face of devastating loss. Written in a vivid and nuanced style evocative of John McPhee or Peter Matthiessen, The Trail to Kanjiroba offers a surprising and revitalizing new way to think about Earthcare, one that may enable us to continue the difficult work that lies ahead.
Our event will bring deBuys in conversation with a distinguished panel of scholars and writers on A Trail to Kanjiroba and its companion volumes. William deBuys is a prolific author, known also for River of Traps: A New Mexican Life (a finalist for the Pulitzer Prize) and the prizewinning Salt Dreams: Land and Water in Low-Down California. In conversation with deBuys will be historian Samuel Truett, Director of the Center for the Southwest at UNM; geographer Maria Lane, Director of the R.H. Mallory Center for Community Geography at UNM; geographer Melinda Morgan, Director of Sustainability Studies at UNM; UNM climatologist David Gutzler, best known recently for his work with the Intergovernmental Panel on Climate Change (IPCC); and environmental writer and historian Dan Flores, widely known for such works as Coyote America: A Natural and Supernatural History, and author of the forthcoming Wild New World: The Epic Story of Animals and People in America.
This event is FREE and OPEN to the public. A book signing will follow.